Myer chairman quits after losing support of two key shareholders
The embattled chairman of department store Myer has stepped down from his role ahead of the company's annual general meeting, having lost the support of the retailer's two largest shareholders.
Garry Hounsell, Myer's chair for the last three years, announced he would be retiring ahead of the meeting after it became evident that billionaire investor Solomon Lew and fund manager Geoff Wilson would not be voting for his re-election, the company said in a statement to the ASX on Thursday just before the shareholder meeting kicked off.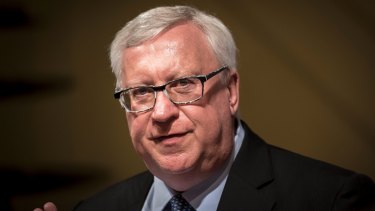 "Ahead of today's Myer AGM, it has become apparent that Myer's two largest shareholders are not supporting my re-election and I will not allow my ongoing tenure as chairman to be a distraction to the hard work of the executive team," Mr Hounsell said in a statement.
The shock move marks a significant victory for Mr Lew, who has been campaigning against Mr Hounsell since his appointment in 2017. The Premier Investments chair, who owns around 11 per cent of Myer, has made repeated calls for Mr Hounsell to step down and has regularly blamed the chairman for Myer's recent underperformance.
Mr Lew had indicated in recent weeks that he would be voting against Mr Hounsell at the annual general meeting, where he was up for re-election. Mr Wilson, who owns 7 per cent of Myer, had long kept his cards close to his chest, but eventually said he believed the company would benefit from some "clear air".
"We believe Myer will benefit from clear air following a challenging period for the company," he told The Age and The Sydney Morning Herald on Thursday morning.
"We expect that management can now stay focused and work towards delivering for shareholders during the Christmas season."
Director JoAnne Stephenson has been named acting chairman in light of Mr Hounsell's departure and the company will undertake a global search for a new chair.
"It is essential that [chief executive] John King and Myer's management team are able to execute the strategy during the all-important peak trading period, between Black Friday and January's Stocktake Sale, without further disruption and it is hoped that my appointment as acting chairman will enable this to occur," Ms Stephenson said.
Mr Hounsell defended his tenure as chairman, saying he believed his three-year run had strengthened the Myer business and held it through the "severe disruption" of COVID-19.
"Throughout my tenure, we have been resolutely focused on delivering for customers and improving the performance of the business – and we have been determined not to allow anything to distract us from that mission," he said.
More to come.
Source: Thanks smh.com