The 11th hour coup: how Myer's board got rolled
It's game over at Myer. The chairman Garry Hounsell has left the building figuratively speaking and the remaining directors are certain to follow suit given none have the support of the two major shareholders Solomon Lew and Geoff Wilson.
The chief executive John King won't be forced to resign and will be encouraged to remain in the short term. But make no mistake, he has lost his management mandate to turn around the company.
King, who is understood to have complained privately about his dislike of Australia, may choose to leave earlier.
The five remaining directors of which one, JoAnne Stevenson will sit in the interim chair for today's annual meetting, will need to front the AGM knowing it will be their last.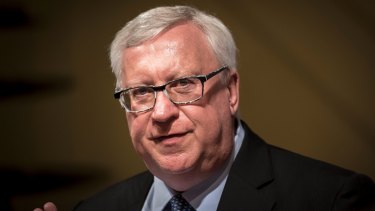 But within a few months it is expected a new team of directors will be signed in. And it will be their job to find a new chief executive.
It has taken Lew four years of constant shareholder (often caustic) agitation to get to this position. He has been Myer's greatest critic. But institutional shareholders have failed to support his attempts at a board coup.
Wilson had previously supported the board incumbents but he appears to have been snookered by Lew.
If Wilson did not support him this time Lew planned to call an extraordinary meeting of shareholders early next year. And having polled other large shareholders Lew understood he would have success at an emergency general meeting even without Wilson.
Wilson's mistake was to bring a knife to his gunfight with Lew.
In a dramatic 11th hour flurry Wilson appears to have informed Hounsell he was pulling support late yesterday.
Lew believed he had Wilson on his side. And up until last night Hounsell did also.
So only hours before the Myer virtual meeting was set to begin, Hounsell had no choice but to be counted as a no-show.
It will now be Lew's job to select a new board of directors of which his representative will be former Myer general manager Terry McCartney, who is also a director of Lew's public company, Premier.
Until a new board has been put in place Myer has been rendered effectively rudderless. A leadership vacuum.
Now comes the hard part for Lew. He needs to change his stripes from being armchair critic to the person who takes responsibility for the performance of a company that is in diabolical trouble.
One would expect to see a new round of cost-cutting and the recruitment of a new senior team within Myer.
The news will certainly leave Myer landlords under no illusions that they are in for a battle royale.
Business Briefing
Start the day with major stories, exclusive coverage and expert opinion from our leading business journalists delivered to your inbox. Sign up for the Herald's here and The Age's here.
Source: Thanks smh.com