Value of Virgin's Velocity axed in report clearing way for Bain takeover
The value of Virgin Australia's profitable frequent flyer scheme Velocity was slashed from $2 billion to $700 million in an independent report paving the way for private equity firm Bain Capital to take full ownership of the company.
The massively reduced value ascribed to Velocity is contained in an Independent Expert's Report which has been presented to the Federal Court by Virgin's administrator Deloitte as part of a process to transfer all of the shares in Virgin to Bain, which won a fierce bidding war for the formerly ASX-listed airline after it went into administration in April.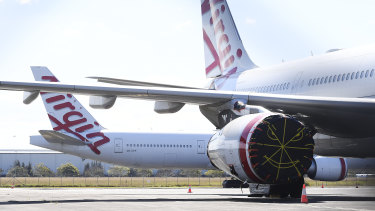 Airline loyalty schemes have become major profit centres for airlines, and in some cases are considered more valuable than the carriers they are attached to. Qantas' loyalty business generated close to a fifth of its pre COVID-earnings, and Bain is widely expected to try and use Velocity's 10 million strong member base to revive Australia's second carrier.
One leading expert in airline loyalty schemes said the Velocity valuation used in the independent expert's report was "hard to understand" given the scheme was worth $960 million six years ago when it had half as many members.
Administrator Deloitte is executing the transfer of shares to Bain under a rarely used section of the Corporations Act, 444GA, which requires the court to find the shares have no economic value.
The report by multinational advisory FTI Consulting found that while Virgin had an enterprise value of $3.1 billion to $3.5 billion, its equity was worthless – or between negative $786 million and negative $1.4 billion – after taking into account almost $5 billion in liabilities owed to banks, bondholders, aircraft lessor and employees.
The report gives Velocity an equity value of $640 million to $704 million. That is significantly below the $960 million valuation implied by the 2014 sale of a 35 per cent stake in the scheme to private equity firm Affinity Partners, and the $2 billion valuation implied at last year's repurchase of that stake by Virgin.
Evert de Boer, managing partner of On Point Loyalty, a global consulting firm focused on airline loyalty programs, said that even in today's pandemic-affected airline market FTI's valuation "seems low, for all intents and purposes".
"It's hard to understand how the value of the company would shrink from $960 million [in 2014] to $700 million," he said. "Yes we're in COVID now, but these loyalty programs are long-term plays and have shown they are quite profitable."
FTI's valuation applies an multiple of eight times its 2020 earnings. Mr de Boer said a conservative valuation for Velocity in the current dire airline market should be 10 to 12 times, or around $900 million to $1 billion. In January, before COVID-19 hit, Mr de Boer valued Velocity at $1.7 billion.
The FTI report would have had to value Velocity at $1.5 billion or more to push the overall value of Virgin's equity into positive territory under a "high" valuation scenario and possibly stall the 444GA application.
In its report, FTI said Virgin's previous Velocity transactions likely applied a sizeable "control premium" and noted that shares in comparable airline companies had fallen by 60 per cent on average since November.
"In addition, placing Virgin Australia in administration with an uncertain outcome, has imposed additional pressure on the perceived value of Velocity, which is significantly intertwined and dependent on the viability of the airline," the report says.
US airline United used its frequent flyer scheme as collateral in a July debt raising that valued the program at 12 times earnings, or $US22 billion – more than twice United's $10 billion stock market valuation. Meanwhile, Qantas' loyalty scheme has been valued at up to 15 times its earnings, which is what Mr de Boer said should be a standard for a well-run scheme operating in a stable environment. A list of transactions involving other loyalty card and travel companies included in FTI's report had an average value to earnings ratio of 12 times.
"All of a sudden these loyalty programs have been thrust into the limelight because they turn out to be very resilient and stable even when people stop flying but continue to spend on their credit cards," Mr de Boer said. "It's lead to this 'ah ha' moment for people realising these loyalty cards are very profitable and consistent."
The court will hold a final hearing on Deloitte's 444GA application on November 10, while shareholders have until November 5 to challenge the application. Bain has agreed to buy all of Virgin's assets even if Deloitte cannot complete the transfer of the corporate entity for any reason.
FTI's valuation for Velocity is based on its 2020's earnings of $89 million, which had fallen from $122 million a year earlier due to COVID-19. However the report forecasts Velocity's earnings to fully recover by 2022 and grow after that.
Market Recap
A concise wrap of the day on the markets, breaking business news and expert opinion delivered to your inbox each afternoon. Sign up for the Herald's here and The Age's here.
Source: Thanks smh.com