BP to shut Australian oil refinery, leaving just three in the country
Energy giant BP will permanently shut down one of Australia's last remaining oil refineries, triggering hundreds of job losses and increasing the nation's reliance on imported fuels.
BP on Friday announced it would shut its 65-year-old Kwinana refinery in Perth and convert the site into a fuel import terminal, saying the refining business was no longer economically viable.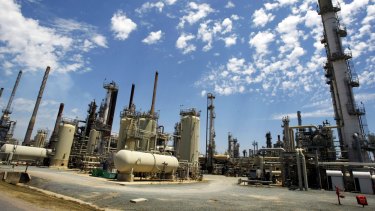 "Having explored multiple possibilities for the refinery's future, BP has concluded that conversion to an import terminal is the best option," the company said in a statement.
BP and the nation's other refiners in Brisbane, Melbourne, Geelong – which process crude oil into refined fuels – have been under enormous pressure since the onset of travel restrictions and stay-at-home orders to curb the advance of COVID-19 wiped out demand for petrol and jet fuel and sent their profit margins crashing.
The Kwinana refinery employs about 650 people – 400 permanent staff and 250
contractors. Refining activities will wind down over the next six months, the company said.
Once the new fuel import terminal is completed, the site is expected support about 60 jobs.
"Today's decision to cease refining is a difficult one and not in any way a result of local policy
settings," BP head of Australia Frédéric Baudry said.
"It comes in response to the long-term structural changes to the regional fuels market."
In the past decade, three refineries have shut across Australia, increasing the country's reliance on imported fuels, as the local sector struggles to compete against the mega-refineries of south-east Asia with their vastly larger scale and lower operating costs.
Following months of industry consultation, the Morrison government last month revealed a series of measures to buffer against potential supply shocks caused by global events such as wars or pandemics, and to help keep refineries open "wherever commercially possible". Under the plan, refiners would receive a direct payment of 1.15¢ a litre for locally made fuel.
However, oil refiners have warned the measures may not be enough to support the viability of their businesses amid the unprecedented pressure caused by the virus-driven fuel oversupply.
The other operators including Ampol, ExxonMobil and Viva Energy have all implemented measures including production cutbacks and extended maintenance closures.
Ampol, formerly known as Caltex Australia, said it had launched a review of its Lytton refinery in Brisbane on Thursday examining options including permanently closing the plant which employs 500 staff and converting the site to a fuel import terminal.
Source: Thanks smh.com