'Hard yakka' as Atlassian's quarterly profit takes a hit
Australian software giant Atlassian has seen its profits dip for the fiscal first quarter, weighed down by the company's ongoing push to move customers to the cloud and measures taken to contain the COVID-19 pandemic.
The Nasdaq-listed company posted a loss of $US21.6 million ($30.71 million) for the quarter ended September 30, compared with net income of $US69.3 million ($98.46 million) for the same period in fiscal 2020.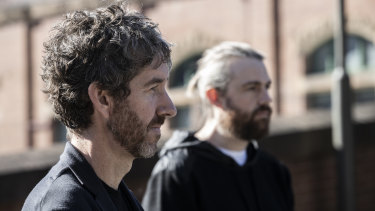 Revenue for the quarter jumped 26 per cent year-on-year to $459.5 million, ahead of analysts expectations. However, Atlassian shares slumped 4 per cent in after hours trading, from $US210.72 to $US200.80, as it flagged slower revenue through the remainder of financial year.
Atlassian makes workplace software products, including project management tool Jira, and co-founders and co-CEOs Mike Cannon-Brookes and Scott Farquhar said the company has been cautious on its pricing as a result of the "uncertain macro environment".
"The ongoing global pandemic and economic environment may continue to hamper our customers in specific industries and smaller-company segments," they said in a letter to shareholders.
Earlier this month, Atlassian announced it would stop selling new server licenses in February 2021 and end maintenance and support for server products in three years time. The move helps Atlassian to push more customers to the cloud, as 75 per cent of its paying users are still using at least one on-premises deployment.
Mr Cannon-Brookes and Mr Farquhar said the company had put in the "hard yakka" over the years to build a scalable cloud platform.
"We know this may be a challenging transition for the customer teams directly involved in
migrating to the cloud," the pair said.
Mr Cannon-Brookes added that Atlassian had published more than a million words of content to help customers with the transition.
"Which I'm told is longer than the entire Harry Potter series," he said in a call with investors. "So this has really been an all company effort to make sure that this is handled well with a customer first lens and tries to be as clear and empathetic to customers as possible."
Atlassian added more than 8,600 new customers during the quarter and now serves over 182,000 customers, including more than 160,000 using its cloud products. For the second quarter of the financial year it has forecast revenue in the range of $US460 million to $US475 million.
"We will continue to focus on playing offence for the long term," Mr Cannon-Brookes said.
"All our choices and actions focus on making our customers successful and drive us through $US5 billion and beyond."
Source: Thanks smh.com