Origin Energy cuts back gas drilling as pandemic drain hits exports
Origin Energy has curtailed drilling at its Queensland natural gas operations in the latest sign of the severity of the COVID-19 pandemic's blow to demand and prices across the oil and gas export industry.
As lockdowns and restrictions to arrest the spread of the coronavirus slash global fuel consumption and continue pummelling energy markets, Origin on Friday detailed the extent of the impact on quarterly sales of liquefied natural gas (LNG), one of the nation's biggest commodity exports.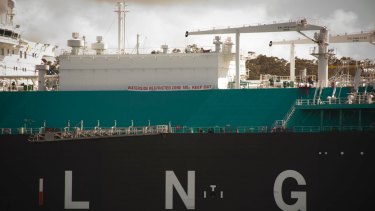 Chief executive Frank Calabria said Origin had recorded a 39 per cent slump in revenues from its integrated gas business across the September quarter, mainly due to lower prices, after this year's dramatic oil price crash flowed through to sales of LNG.
Origin's Australia Pacific LNG (APLNG) operations in Queensland, jointly owned with US giant ConocoPhillips and China's Sinopec, had cut back its production drilling as demand for cargoes remained "subdued," Mr Calabria said.
"Gas production was steady for the quarter, however as expected, realised prices were lower as the lagged impact of oil prices on APLNG's contracts started to flow through to revenues," he said.
"With demand for LNG continuing to be subdued and strong performance from our gas fields, Origin has reduced drilling activity for the year across upstream operations at APLNG."
As a result, Mr Calabria said, Origin's share of capital expenditure for APLNG would be $33 million lower across the quarter.
Analysts on Friday said Origin's sales volumes, prices and revenues had fallen short of market forecasts amid a quarter viewed as "generally soft".
While Origin's average LNG price of $US5.81 per million British thermal units for the quarter was significantly lower compared to the prior three months, JP Morgan's Mark Busuttil noted it was higher than that of rival Australian producers such as Woodside's $US3.90 and Santos's $US4.27.
"APLNG's average realised LNG price was higher than peers' – likely due to a longer lag versus benchmark oil prices," Mr Busuttil said.
Worldwide, lockdown restrictions have depressed energy use and driven sharp falls in sales of energy commodities such as coal, crude oil and natural gas – a fuel widely used in power generation, heating and as a feedstock for manufacturing.
After briefly overtaking Qatar to become the world's largest supplier of LNG cargoes, Australia's $50 billion-a-year LNG industry is now forecast to decline to $31 billion, according to federal government forecasts.
LNG demand is widely tipped to begin recovering in the near term as the shock of the supply glut eases and nations re-emerge from severe lockdowns with programs to stimulate their economies, restoking demand for fuel and power. However, the longer-term fortunes of Australia's LNG export sector were called into question this week after Japan and South Korea confirmed new targets to become carbon-neutral by 2050, moves which will require reductions in fossil fuels' share of their energy mix and greater investments in renewable energy.
Elsewhere in Origin's business, the company reported electricity demand was recovering following a sharp downturn earlier in the year as factories and office towers stood empty with many Australians working from home.
"It is encouraging to see electricity demand has largely stabilised and returned to pre-COVID levels in most states," Mr Calabria said.
"However, business demand remains impacted, particularly in Victoria where there have been ongoing restrictions."
Source: Thanks smh.com