AAP newswire lost $10 million before rescue deal
Australia's oldest newswire company lost $10 million in the year before it was sold in an eleventh hour rescue deal, according to documents filed with the corporate regulator.
The annual financial report from Mediality (previously known as Australian Associated Press) reveal the parlous financial position it was in before major shareholders Nine Entertainment Co and News Corp Australia moved to close it down.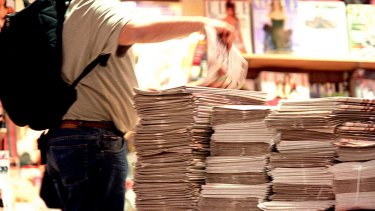 AAP's core newswire service lost $5.4 million alone, with further losses from press release distribution service Medianet and editing unit Pagemasters, bringing the total loss to $10 million for the financial year. The loss was compared to a profit of $929,000 the year prior, which occurred after a major restructure. In 2018, the company posted a $10.5 million loss.
AAP was saved from closure by a group of philanthropists led by former Foxtel and News Corp boss Peter Tonagh after its previous shareholders Nine (owner of this masthead) and News Corp decided they would no longer subsidise the business. The group paid $1 for the newswire, which led to a $899,000 write-down in value in its financial results. Mediality was approached for comment.
Part of the loss last financial year was due to redundancies which took place early in the year when it looked like the company would not be rescued. A reduction in the price customers paid for services and a write-down in value of the newswire also contributed.
The financial results reveal the challenges the new entity is facing as it tries to become profitable. New AAP chair Jonty Low and chief executive Emma Cowdroy sought a $5 million government grant to support the business in September. Industry sources previously indicated the newly formed entity would go broke if it did not receive the funding. The architect of the bid to save the embattled newswire, Nick Harrington, has since left the organisation.
One of the reasons AAP started to struggle was because some subscribers were not willing to pay as much for the service. Seven West Media and Australian Community Media – its two biggest remaining clients – signed up to the new service on three-month contracts.
The prospect of AAP's closure concerned politicians and some in the media industry because of the role APP has had in the news cycle. AAP has for decades provided newspapers and other media outlets with breaking news and articles from court cases and sports matches that otherwise may have not been written. It now runs as a not-for-profit with no shareholders and without $15 million in subscriber fees from Nine and News Corp.
Source: Thanks smh.com