Flare HR banks $22m in fresh funding from MYOB, Malcolm Turnbull
Employment software startup FlareHR is targeting small business customers and new products to help users boost their financial security after banking $22 million in fresh funding from KKR-backed accounting platform MYOB.
Flare HR was founded in 2015 and provides software which manages the on-boarding of new employees, other human resources functions and payroll to corporate clients including Deloitte, Grill'd and Nissan.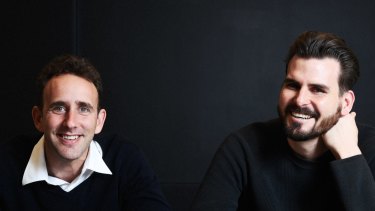 MYOB was acquired by US private equity giant KKR in a $1.6 billion deal last year. KKR's senior adviser in Australia, former prime minister Malcolm Turnbull, also invested in the Flare funding round, and will act as an adviser to the firm.
Flare's co-founders Dan Cohen and James Windon said the funding injection and accompanying partnership with MYOB will allow it to service small and medium businesses alongside big corporates. "What MYOB does for us is really allow us to democratise that right down to SMEs who really don't get the love and attention that maybe some of the bigger enterprises do," Mr Cohen said.
The latest funding round also is also backed by US venture capital firm Point72 Ventures, local investment fund Acorn Capital and prominent local investor David Fite and brings the total raised by the startup to $51.5 million.
"We think that COVID presented an opportunity [for companies] where they're providing more than just a paycheck for employees" Mr Windon said. "We're looking at how we can enhance our benefits platform with an employee centric lens."
MYOB's general manager of financial services, Andrew Baines, said the partnership with Flare added to MYOB's product suite for customers seeking to onboard and engage their workforce.
"The Australian workforce is undergoing a huge transformation and we want to lead with financial solutions that make employment and onboarding easier for business owners as they keep our economy moving," Mr Baines said.
Mr Turnbull said Flare's business model provided real value to Australian firms and their employees "at a time when the future of work looks very different".
"Going into a pandemic you don't know the impact, but in hindsight you get a wonderful vision into what employees need and most businesses need to deal with the total change in the environment," he said. "What you've got here with COVID is a change in work patterns in the way that people work, the notion of remote working and the need for the digitisation of the workplace."
Mr Cohen said it was difficult raising money in a pandemic, but COVID-19 had driven business to Flare which provides tools for employers to deal with employees digitally.
"Going into a pandemic you don't know the impact, but in hindsight you get a wonderful vision into what employees need and most businesses need to deal with the total change in the environment," he said. "What you've got here with COVID is a change in work patterns in the way that people work, the notion of remote working and the need for the digitisation of the workplace."
Source: Thanks smh.com