'Disappointing': Westpac profits dive by 62 per cent, dividend slashed
Westpac has reported a 62 per cent fall in cash earnings for the year and will pay shareholders a dividend of 31 cents in what chief executive Peter King has described as "disappointing" results in a challenging year.
The big four bank made $2.6 billion compared to $6.8 billion the same time last year and its statutory net profit was also down to $2.3 million, down 66 per cent over the year.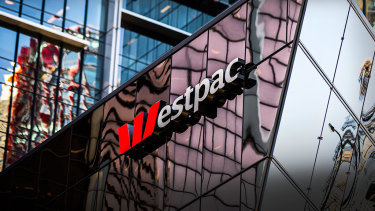 Mr King said in a statement filed to the ASX on Monday morning Westpac's full-year earnings had been impacted by higher impairment charges, increased notable items and the sharp decline in economic activity brought on by the pandemic.
"2020 has been a particularly challenging year and our financial result is disappointing," he said. "At the same time, we have incurred higher expenses due to increased resourcing to handle unprecedented COVID-19 demands and fixing our compliance issues."
Westpac's final dividend is the maximum payment that could be made under the prudential regulator's guidance, but comes in much lower than last year's dividend of 80 cents per share.
Westpac's expenses were up 6 per cent across the year as it ploughed money into fixing its risk and compliance technology, after it was fined $1.3 billion for widespread failures in its anti-money laundering procedures.
"We have taken accountability for our mistakes and commenced a process of fundamental change, which has included refreshing the board and management and elevating oversight of financial crime, compliance and conduct," Mr King said.
The bank also provided an update on loan impairments. Mr King said had increased provision for bad loans from $2.2 billion to $6.2 billion and that more than two thirds of customers of deferrals had started making payments again.
More to come.
Source: Thanks smh.com