Westpac boss contrasts COVID-19 with GFC as bank reports 62% profit fall
Westpac chief executive Peter King has warned investors to prepare for a different form of economic shock to the global financial crisis after the lender posted a sharp fall in profit and declared a reduced dividend.
The big four bank has provided $64.8 billion in loan deferral packages since the first wave of the coronavirus pandemic in March and Mr King said he expected the "focus on deferrals" will pass come January.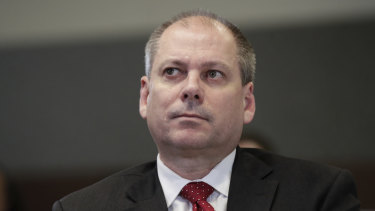 "The GFC was about large exposures to big companies, this is about individuals and small business," he said. "The logistical part of this event is very different to what we saw in the GFC."
Westpac's executives will not be paid bonuses this year after key performance targets were not met, as the bank reported cash earnings had fallen to $2.6 billion from $6.8 billion over the year and statutory net profit was also down by 66 per cent to $2.3 billion.
Shareholders will receive a fully franked dividend of 35¢, the maximum payment allowed under the prudential regulator's guidance, which exceeded the forecasts of some analyst, but was still 61 per cent lower than last last year's second-half dividend of 80¢ a share.
There were profit falls across all of Westpac's divisions, with cash earnings falling by 12 per cent in its retail bank, 62 per cent in its business bank and 64 per cent in its institutional bank.
Mr King said the results were "disappointing" in a year that was marked by mounting costs related to responding to the coronavirus pandemic and the landmark AUSTRAC case, in which Westpac was hit with the largest penalty in Australian corporate history.
Westpac has almost doubled its risk and compliance budget to $806 million and hired an additional 400 staff this year to bolster its anti-money laundering compliance. Mr King said he regarded risk and compliance as a "top priority" and that these investments would improve results.
UBS banking analyst Jonathan Mott said Westpac's strategy of "fix, simplify and perform" was largely focused on the "fix" component as regulatory expenses would continue to eat into the company's margins.
"From our perspective, getting risk and compliance right – you're still going backwards while your peers are going forward," Mr Mott said.
Deferral update
Westpac provided an update on loan support given to customers struggling during the pandemic, with the value of deferred home loans falling from $54.7 billion to $16.6 billion and the value of deferred small business loans falling from $10.1 billion to $1 billion.
The bank said around two-thirds of customers with deferred home loans had started making repayments.
All the major banks have hired additional staff to reach out to customers on paused loans to encourage repayments. Mr King said between 20 per cent and 30 per cent of mortgage borrowers had been responsive to these calls and that the proportion was almost double for its small business customers.
"The next month is really important in working out who will make the repayment versus who needs more help," he said.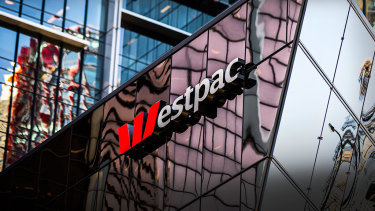 Morningstar banking analyst Nathan Zaia said Westpac's loan deferral balances were falling faster than expected, but actual losses would start to be felt by over the next 12 months.
"The uncertainty is going to be with us for some time, no one knows the exact amount you need to put away."
Mortgage lending also fell by 2 per cent and Westpac has committed to speeding up its loan approval process, which has lagged its competitors.
Mr King said the federal government's proposed removal of responsible lending laws would not lead to a spike in bad loans and it would not "fundamentally change our credit settings".
"We don't want to make any loans that people can't afford. There is alignment between the bank's interest and customer's interest."
Westpac is expecting unemployment to remain above 6 per cent next year and Mr King called on state governments to open borders to promote movement within Australia.
"We need domestic activity to increase. That's the best thing for the economy of the country. We can't keep borrowing money to pay income forever so we've got to get activity back," he said.
Financial crime reform
Mr King called for a relaxation of laws that prevent information sharing between banks to better prepare the industry for fighting financial crime.
Current legislation prevents banks from sharing information about suspicious customers and Mr King said reform was needed.
"The challenge in financial crime is we have actors who are continually creating ways to move money," said Mr King, who replaced former chief executive Brian Hartzer after he resigned in the wake of AUSTRAC's lawsuit.
"It sort of makes no sense that we all do Know Your Customer [security checks] on every customer," he said. "If we can find ways to share information in the industry more broadly, that would be useful.
"But that's very hard with the existing rules around privacy."
Westpac also said it had embarked on a process of reducing the number of correspondent banks it does business with after AUSTRAC singled out 16 problematic partner banks.
The Age and The Sydney Morning Herald revealed Westpac had partnered with a Puerto Rican institution, Euro Pacific Bank, that is at the centre of a global tax evasion and money laundering investigation.
Mr King said Westpac had removed 160 correspondent banks from its network this year. "It's back to our core business," he said.
Business Briefing
Start the day with major stories, exclusive coverage and expert opinion from our leading business journalists delivered to your inbox. Sign up for the Herald's here and The Age's here.
Source: Thanks smh.com