Central Equity brushes off apartment slump
The pandemic-induced slump in demand for central city units has barely dented profits and revenue at one of Melbourne's most prolific apartment developers.
Central Equity, which pioneered high-density residential development in Southbank, says the city's COVID-19 outbreak has created a "stop, start effect" for apartment sales, significantly slowed construction timelines and greatly reduced the pipeline of projects.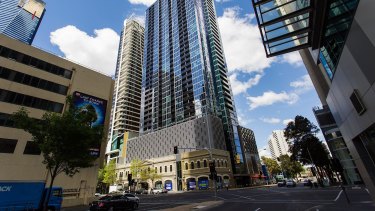 Financial reports for the company, Melbourne's equivalent of Harry Triguboff's Meriton in Sydney, show it booked a $30.5 million profit from $234 million revenue last financial year.
The result was a slight, $4 million, decrease on the previous year, but a huge shift from the record $145 million profit the developer booked in 2017.
While the financial fallout from the pandemic has been limited for the company, its effect on the market is evident. "Opportunistic developers have retreated from the marketplace. Many either reselling their sites or abandoning the project," the group's directors, Eddie Kutner, Dennis Wilson, John Bourke and Karl Kutner, said in an annual report.
"The volume of future development activity has been greatly curtailed, which is not immediately obvious due to the 'lag' effect," the directors said, while at the same time predicting a slump in future supply.
"There is substantial current residential construction activity but as those projects are completed there will be a considerable reduction in future supply, due to reduced construction starts."
Transaction platform PEXA, which collects data on real-time e-conveyancing property sales, says residential values fell 9 per cent in NSW and 14 per cent in Victoria in the first nine months of the year.
Some industry commentators had forecast peak-to-trough slumps in residential property prices of up to 15 per cent nationally.
Central city markets, heavily reliant on overseas visitors, students and a thriving city workforce, were hardest hit.
In a further sign of widening coronavirus cracks, the China-backed Aurumstone Group recently said it would sell 147 newly completed apartments in one hit after struggling with pre-sales.
But Central Equity has joined other property experts predicting the worst may be over and that the dire predictions of a COVID-19-induced crash were overblown.
During the year, it completed and settled its major $425 million apartment Southbank Place. Other settlements across the group's projects were "within expectations," it said.
"There continues to be strong demand for residential within the apartment market and the land subdivision," the directors said.
"As affordability and credit availability improves, the pent-up demand will be activated and the pool of buyers will expand."
The group was sitting on cash and other assets of $801 million at the end of June, with total liabilities of about $565 million. It was carrying bank debt of $187 million.
This month, the developer is putting the finishing touches to its 58-level Melbourne Grand development in the Lonsdale Street legal precinct. Residents were beginning to move in and there were still limited apartments for sale, it said.
Central Equity will next develop a landmark 50-level apartment tower in Southbank called Focus Melbourne Apartments at 71-87 City Road. The complex has a higher than usual number of three-bedroom apartments to cater for more families moving to the area, it said.
Source: Thanks smh.com