Nib banks on 'strong recovery' in international student market
Nib chief executive Mark Fitzgibbon has told investors the health insurer expects a strong recovery of international inbound insurance sales as it expects Australia to become a more attractive destination for students and workers in the wake of the pandemic.
Given the global volatility and new waves of infections ravaging markets across the northern hemisphere, "we do expect a strong recovery post-COVID-19," Mr Fitzgibbon said at the company's annual general meeting on Thursday. "Not that we celebrate the conditions in Europe or the USA — but they are conditions that will likely encourage more and more students and international workers to consider Australia as a safer destination."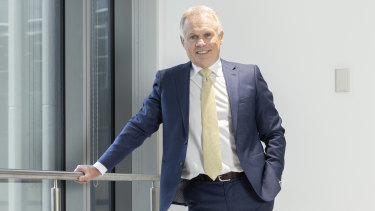 He made his prediction after the $2 billion fund saw profits drop 40 per cent in August. The result included a "deferred claims" provision of $98.8 million in anticipation that members would make claims in the 2021 year that had been delayed due to COVID-19 shutdowns.
In a quarterly update at the company's annual general meeting, Mr Fitzgibbon said hospital benefits paid in the three months to September showed an increase of 6.1 per cent excluding Victoria, while eligibility checks from members were up by 7 per cent compared with 2020, excluding the locked-down Victorian market.
"No one is declaring victory in terms of the accuracy of our provisioning — but the signs give us some level of confidence and comfort," he said.
Restrictions on travel into Australia put the breaks on international student and worker health insurance policies, which analysts have recently highlighted are an increasingly important segment for insurers like nib and fellow ASX-listed insurer Medibank Private.
Macquarie analysts noted this week that health insurance revenue from "international inbound" policyholders has more than tripled over the the past decade across the industry and was worth close to $690 million in 2020 excluding German multinational Allianz, which has a 40 per cent market share.
Mr Fitzgibbon said nib was still making sales to international workers and students as some flexibility returned for workers to enter Australia but these sales were still lower than pre-pandemic..
Underlying operating profit for international inbound policies was down by more than 57 per cent in the fourth quarter of 2020. However, the company said on Thursday profitability was holding up despite the challenges.
Mr Fitzgibbon said the local marketplace for international student cover was heating up.
"A number of our competitors have caught onto the idea that it's a lucrative and attractive market."
Nib shares rose with the rest of the healthcare sector during Thursday's session, closing 2.4 per cent higher at $4.35.
Source: Thanks smh.com