Packer should face ban from Sydney casino, inquiry told
The NSW government should consider banning James Packer from being closely involved with Crown Resorts' new Sydney casino after it was revealed he sent a threatening email to a prominent Melbourne businessman in 2015, an inquiry has been told.
Counsel assisting Adam Bell, SC, also urged the NSW Independent Liquor and Gaming Authority (ILGA) inquiry to find that Mr Packer acted as a "de facto director" of Crown by wielding enormous influence over how the gambling giant was run even after he stepped off its board in 2018. This could have significant implications for the licence for its Barangaroo casino, which is set to open next month.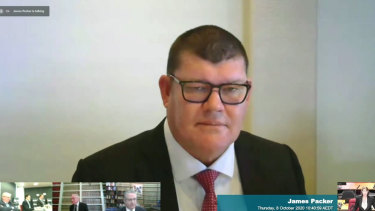 In the second day of his final submission to the inquiry, Mr Bell took Commissioner Patricia Bergin back over the explosive emails presented last month in which Mr Packer sent a threatening email to a businessman referred to as Mr X, since confirmed to be private equity executive Ben Gray, after a negotiations to privatise Crown soured.
Giving evidence last month, Mr Packer agreed that his behaviour was "shameful" and "disgraceful" and attributed it to his bi-polar disorder.
However, Mr Bell said on Thursday there had been "no medical evidence presented to this inquiry" that supported the connection between Mr Packer's threatening email and any health condition. In fact, Mr Bell said that other emails Mr Packer sent on that same day including to Crown's then-chairman Robert Rankin were in "perceptive and business-like" terms.
"The difference was that Mr X had conveyed information to Mr Packer which was bad news which Mr Packer did not want to hear," Mr Bell said.
"We submit that you should recommend to the [NSW gaming] authority that it reconsider its approval of Mr Packer as a close associate of the licensee having regard to his conduct in these emails."
Under NSW's gambling legislation, a "close associate" is a person who has a position of influence over the running of a casino and must be of "good repute, having regard to character, honesty and integrity". Mr Packer currently owns 36 per cent of the shares in Crown and has three nominee directors on its board.
More to come
Source: Thanks smh.com