Treasury Wine holds on to China strategy despite trade tensions
Treasury Wine Estates chairman Paul Rayner says the Australian wine giant is committed to China for the long term, regardless of rising trade tensions between the two countries and Chinese investigations into Australian wine imports.
Addressing Treasury Wine's annual shareholder meeting on Thursday morning, Mr Rayner said Treasury had been dedicated to the China market ever since it introduced the Penfolds label there in 1995, and the company had helped create a strong wine industry benefiting many in China.
Mr Rayner said Treasury respected the investigations undertaken by Chinese authorities and would continue to cooperate with them. China is examining whether Australia dumped wine at discount prices into China, and is looking into subsidies provided to the Australian wine industry by the federal and state governments.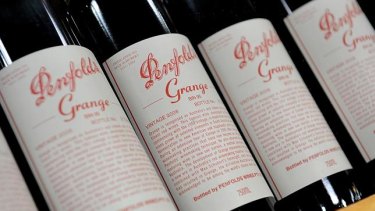 "I want to make the point to shareholders that these investigations do not change our long-term commitment to China as a priority market," Mr Rayner said on Thursday.
Australian wine exports to China, which total about $1.2 billion a year and are a major part of Treasury's annual revenue and profit, are under threat as tensions continue rising in the Australia-China relationship.
Some Australian wine exporters have this week been told by China-based importers that their wine will not clear Chinese customs from November 6 onwards. The China-based importers have also told Australian exporters that because of this, they should not keep dispatching wine to China. Numerous Australian wine companies have reported these concerns.
Addressing these concerns in his speech to the annual meeting, Treasury boss Tim Ford said Treasury was aware of media reports and speculation about a potential embargo of Australian exports, including on wine. But he said Treasury had not received any formal notification from Chinese authorities about potential export restrictions.
Mr Ford said Treasury was responding to the Chinese investigations into Australian wine and would provide comprehensive responses to questions asked by Chinese authorities.
"These investigations do not change our long-term commitment to China and we will continue to focus on building our brands in this market, and further developing the deep relationships we have with our customers and strategic partners," he said.
Mr Ford also addressed news that the Chinese Alcoholic Drinks Association, a China-based lobby group, had applied to Chinese authorities for retrospective tariffs to be applied to Australian wine exported to China. Mr Ford said it was unclear whether the application would be successful.
ASX-listed Treasury also released a September quarter trading update, which revealed that its sales in the Asia region rose 14 per cent on the prior corresponding period. Treasury said sales had recovered across Asia during the quarter.
In Australia and New Zealand, Treasury reported growth in retail sales of wine sold above $10 per bottle, adding that sales of its "masstige" (or mass prestige portfolio of brands) grew 21 per cent in the September quarter.
"We are becoming increasingly optimistic around the prospects for an earnings recovery from the second half of fiscal '20 in each of our markets outside of China, where the […] investigation remains a considerable point of uncertainty," Mr Ford said.
Source: Thanks smh.com