How 'lousy shoemaker' Reebok is planning a revival
Reebok could once again find itself on top, as it mulls the prospect of being sold by its parent company Adidas, provided it can tap into the power of influencers and their love for nostalgia, says the co-founder of the venerable British sports brand.
Joe Foster, a self-confessed "lousy shoemaker" started Reebok with his brother in 1958 from a factory in Bolton, England. Within the space of a few decades Reebok had turned into one of the biggest sports brands in the world, outselling Nike and Adidas .
However, having shone brightly in the 1980's Reebok's history since then has been more troubled. The 85 year old Foster told The Age and The Sydney Morning Herald the Reebok brand lost its way before it was sold to Adidas in 2006 for US$3.8 billion ($5.3 billion) but he's not ready to write off the company just yet.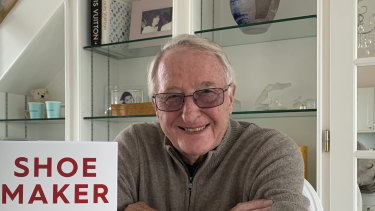 "The Reebok company had stagnated, it hadn't been developing and moving on, and definitely it needed a change of management and a change of operation," he says.
"It has a very rich history going back many, many years, and I think there's a good opportunity now for Adidas to probably put some energy behind Reebok. Things are changing of course with COVID.. people buy now using social media so it's quite different."
And a revival is entirely possible, especially as Reebok weaves its way into contemporary pop culture.
Foster says Reebok has been building its profile through collaborations with celebrities like rapper Cardi-B and Wonder Woman actress Gal Gadot, in an approach reminiscent of Reebok's 1980's heyday when actress Sigourney Weaver wore a custom pair of Reeboks in Alien.
Reebok listed on the New York Stock Exchange in 1985 in order to finance its fast growth but Foster says by then the company had become to stretched.
"Once your company becomes so big, it became a numbers company, and the fun of the brand, the growth, the adventures, it was over," he says. "It's lost its entrepreneurial side at that point when it gets to a certain size it becomes a machine, and you have a lot of professionals, a lot of lawyers, a lot of accountants, people working on just numbers."
Foster retired from Reebok before its sale to Adidas and says while the sale helped boost the German sports giant's profile in the United States it was unclear whether the deal was right for Reebok with recent reports Adidas is seeking to offload Reebok by March next year.
"They wanted some momentum in the United States and they used the Reebok brand to give momentum to Adidas," Foster says. "Whether Adidas was the right choice is yet to be seen."
Foster started Reebok when he was 23 and his brother was 25, the family's shoe business JW Foster & Sons was failing. Detailing the birth of Reebok in his recently published autobiography, Shoemaker, Foster says the brothers took to the task with great gusto.
"We were young, we were indestructible, we probably didn't know any better," Foster says. "We were bound to do well, it was one of those things you couldn't fail at that age."
The pair built up Reebok in the United Kingdom before garnering a five-star review for one of Reebok's shoes in the influential Runner's World magazine, which was "the door to the American market".
However, it wasn't until Reebok created a shoe designed for the aerobics craze inspired by Jane Fonda that it became a global phenomenon.
"This went absolutely crazy because what happened is all of a sudden there was a shoe which was specifically for women doing sport," Foster says. "They didn't have that before, and not only did they use it for the sport, it went straight into Hollywood."
Reebok grew quickly from turnover of $US9 million to $US1.6 billion while competitors Nike, Brooks and Adidas looked on.
"They all just stood back, they thought the craze wouldn't last very long," Foster says. "But it lasted long enough for Reebok to become the number one sports brand."
Joe Foster's book Shoemaker is out now.
Business Briefing
Start the day with major stories, exclusive coverage and expert opinion from our leading business journalists delivered to your inbox. Sign up for the Herald's here and The Age's here.
Source: Thanks smh.com