News Corp swings to profit despite decline in print ads, Foxtel revenue
News Corp eked out a $US47 million ($64.5 million) profit in the latest quarter as growth in its real estate division offset declines in print advertising and falling revenue from Foxtel subscribers.
Sales fell 10 per cent to $US2.12 million in the three months to September 30, largely due to a $US200 million impact from the sale of News America Marketing and a $US35 million hit related to the closure of suburban and regional print newspapers in Australia, the Rupert Murdoch-controlled media group said in a statement on Friday morning.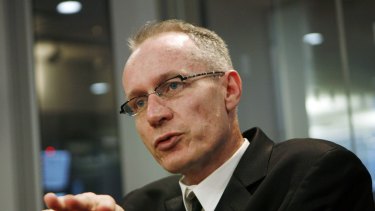 News Corp Australia announced in May it would axe hundreds of jobs and stop the print editions of more than 100 suburban and regional mastheads in Australia as part of a major restructure. Excluding these factors, total revenue fell 3 per cent.
News Corp also made less money from subscribers of subscription television services such as Foxtel, Kayo Sports and its newly launched entertainment streaming service Binge, with revenue from subscribers falling by $US18 million to $US496 million due to the absence of commercial subscribers such as pubs and clubs and residential subscribers tightening their belts.
Foxtel was expecting a churn in subscribers as it evolved its business model with the launch of streaming services Kayo and Binge. However social distancing restrictions put in place because of the coronavirus pandemic have put additional pressure on profits. Despite the revenue decline, Foxtel saw its total paying subscribers increase by 7 per cent to 3.287 million as of September 30.
Kayo has 681,000 subscribers (644,000 paying) while Binge has 321,000 users (290,000 paying). Both Kayo and Binge have managed to grow their user base since June. The amount of revenue per user increased by 1 per cent to just $US56 ($77).
Total earnings before interest, tax, depreciation and amortisation grew 21 per cent to $US268 million because of growth in digital real estate services such as REA Group and Move and the company's book publishing division.
The $US47 million net profit for the quarter compares with a $US211 million loss in the September quarter last year, which was weighed down by hefty writedowns and restructuring charges.
News Corp chief executive Robert Thomson said that readers understood they needed to pay for content.
"The principle of a premium for premium content is now recognised, and there will inevitably be further developments in algorithmic transparency and the digital advertising market, two areas in which News Corp has been a leading advocate," Mr Thomson said.
"We are continuing our drive to be a more focused, more digital company and we believe the positive results of that strategy are already clear. Our aim is to generate enhanced returns for our investors in the months, quarters and years to come."
Source: Thanks smh.com