Qantas to shut airport service desks, force customers onto self-service
Qantas will permanently close its service and sales desks at all airports and lounges, leaving passengers to deal with cancellations and last-minute booking changes online or through a call centre.
The move to an almost entirely self-service operation also includes reduced hours at lost-baggage counters, which one union says will make Qantas no better than Jetstar.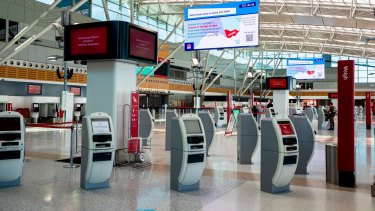 Qantas told staff on Thursday the customer service overhaul was part of its COVID-19 cost-cutting drive, and also reflected the pandemic changing how people want to travel.
"More people are choosing to self-manage their bookings, check in and boarding processes," Qantas' executive manager of airports, Colin Hughes, said in a note sent to staff and seen by this masthead.
"Their feedback, which is understandable in this environment, is that they prefer digital interactions over face to face contact."
The airline will still have staffed check-in desks at airports, but all bookings or changes will self-service.
The Australian Services Union's assistant national secretary Emeline Gaske said about 100 workers would be sacked as a result. She predicted "chaos" during severe weather events or other major disruptions, and said the removal of customer service staff would be particularly hard for older passengers and people with disabilities.
"Can you imagine when there's a flight cancellation – people's expectation is someone will re-book them, not that they'll be given an iPad to sort it out themselves," Ms Gaske said.
"And if your luggage is lost, you expect someone to go and look for it."
Qantas rejected the ASU's claim that customer service would suffer as a result of the changes, which it said were in response to customer feedback.
"The main driver is an increasing shift towards people using our app to check in and manage their own bookings, particularly as we expand what the app can do," Qantas' executive manager of product and service, Phil Capps, said in a statement.
"This was happening before COVID but it has accelerated significantly since. Given that shift, we can't ignore the efficiencies that come with removing the traditional sales desks, particularly in the current environment."
In its note to staff, Qantas told its workers passengers will be able to "self-service their bookings and check in through kiosks, qantas.com and the Qantas app" with customer service agents on hand to assist passengers through the process.
"We will no longer have a dedicated service desk (including in our lounges), however we will have a team available at the airport to support time sensitive flight management and exceptions," the note says.
Customers will not be able to buy a ticket at the airport, and will "self-manage non-urgent fares and ticketing through qantas.com and will have a direct phone line to contact centres for urgent queries."
The note said that the airline's "customer journey operations" team in its operations headquarters will "expand their support in facilitating disruption management".
Source: Thanks smh.com