'Constrained' Biden presidency set to lift markets
Australian fund managers say the US election result is the perfect outcome for markets, as President-elect Joe Biden will provide a steady pair of hands while the Republican-controlled Senate will block anti-business reform.
Atlas Funds Management chief investment officer Hugh Dive said the split government was the "best outcome" for investors, who had already priced in a Biden victory. "It's a constrained Biden administration," Mr Dive said. "The divided Congress will stop some of the outlandish policies like the Green New Deal, replacing all the buildings, all that wish list stuff."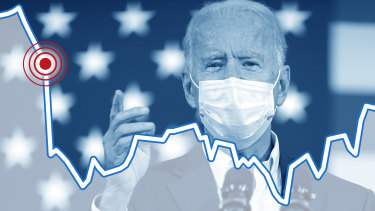 President Donald Trump has signalled he will refuse to concede the presidency, filing lawsuits across four states after falsely claiming there had been voter fraud. However, Mr Dive said this was unlikely to cause any long-term volatility in the markets.
"It will create a lot of noise and play well to his base but this is not Nicaragua, this is not a country where you can cling to power," he said. "That stuff will fade out."
Investors Mutual investment director Anton Tagliaferro said the Republican-dominated Senate would prevent Democrats from pushing through higher corporate taxes and greater regulation of the technology industry. The technology stocks surged last week after Republicans took control of key Senate seats.
"It's hard to put radical legislative change when you have a split presidency and Senate," Mr Tagliaferro said. "So at the moment there's a bit of a relief rally where some of his [Mr Biden's] more radical policies won't be able to pass."
The S&P/ASX 200 Index rose 50.6 points, or 0.8 per cent, to 6190.2 on Friday, after a strong week of trading and as sentiment was high on a potential "fairytale result". Australian futures are pointing to a 15-point rise for the ASX on Monday.
Mr Tagliaferro said while the election result was good for investors, markets may worry about the government's inability to pass through a federal stimulus package. "The US has a number of issues like agreeing on a fiscal package and there may be times where the market will worry about things not being able to pass through the House."
Holon Global Investments research director Tim Davies said President Biden would seek to stimulate the economy out of COVID-19 by investing in new energy, and this could lead to growth in demand for Australian resources such as Nickel and Lithium. "[President] Trump seemed to be pushing more into the old world, opening up coal and doing more oil wells," Mr Davies said.
"[Mr] Biden seems more focused on shifting and looking forward with the new energy policies.
"Electric vehicles will be a huge growth area," Mr Davies said.
Mr Tagliaferro said there could be an easing of tensions between the US and China, but added this was unlikely to help Australia. "We won't have the repetition of the US trade war with China," he said. "Foreign policy won't be done through the media, it will be done through the negotiating table rather than through Twitter."
"[Our] trade with China is suffering because Australia kept pushing for the investigation into COVID," he said. "That was not the cleverest policy from the government in Canberra, so there's a bit of work to do with Australia to get on the right foot with China."
Australian Industry Group chief executive Innes Willox said the Biden administration would have "two fundamental markers" for Australia – progression on climate action and improved relations with China.
"Efforts to take the heat out of differences on global trade through a change in tone will be welcomed," Mr Willox said. "The risk for Australia until now has been that we have been caught up as collateral damage in the US-China trade dispute."
Market Recap
A concise wrap of the day on the markets, breaking business news and expert opinion delivered to your inbox each afternoon. Sign up for the Herald's here and The Age's here.
Source: Thanks smh.com