'Simply unacceptable': Village Roadshow takeover bid knocked by major investor
Prominent private equity firm BGH Capital's bid to takeover embattled theme parks and cinema operator Village Roadshow has hit another snag after a key independent shareholder criticised its bid by describing parts of it as unacceptable.
Spheria Asset Management holds a 7.8 per cent stake in Village, making it the second largest independent shareholder and a crucial voter at a scheme meeting later this month when the proposed $758 million takeover by Melbourne-based BGH, led by Ben Gray and Robin Bishop, is taken to a vote. Village's other major independent shareholder, Mittleman Brothers, has publicly disclosed plans to block the sale.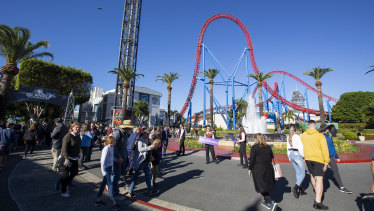 Spheria portfolio manager Matthew Booker told The Sydney Morning Herald and The Age he did not like the bid on the table and said his firm had offered to recapitalise the owner of Sea World, Warner Bros Movie World and Wet N Wild if takeover talks fell through.
"We are unhappy with the price being offered by BGH," Mr Booker said. "We value Village north of $3 on a through the cycle basis and that's without any takeover premium. We believe the majority of issues facing the company are temporary in nature and the bid is highly opportunistic."
Village was hit hard by the coronavirus pandemic. Social distancing restrictions caused its cinemas and theme parks to suspend trading and the company has continued to lose money despite the re-opening of some venues. The challenges of the pandemic only added to the problems Village has faced in recent years. The Kirby brothers were caught up in a bitter and public family feud in 2019 over the leadership and direction of the company. Since 2014, Village Roadshow's market value has tanked from $1.2 billion to $447 million.
The company secured a $70 million funding lifeline from banks and the Queensland Government in August, but was put under more pressure in September after ending its long-running agreement as local distributor of Warner Bros titles in Australia. It still has a large debt pile and will be required to raise a large amount of capital if the deal falls over.
Under the proposal announced in August, Village and BGH would enter into an agreement where shareholders could receive up to $2.45 per share.
Structure A would give shareholders a base price of $2.20 per share, with an additional 25¢ per share dependent on the reopening of theme parks, cinemas and Queensland borders. Brothers John Kirby and Robert Kirby and former chief executive Graham Burke control about 42 per cent of the company, but are unable to vote under this structure which means that Mittleman and Spheria, should they choose, have the ability to block the bid.
If rejected, structure B would be a lower $2.10 per share offer with the 25¢ additional payments. Both valuations were rejected by Mittleman, which increased its stake to 11.2 per cent on Friday. Mittleman has threatened to sue the directors and an independent committee for failing to discharge their duties to shareholders and intends to block two scheme arrangements when they are put to a vote on November 26.
Mr Booker would not explicitly disclose his voting intentions but expects scheme A to fail because of Mittleman's increased stake. He said the $2.10 offer under structure B was "paltry".
"A takeover price of $2.25 is simply unacceptable and we have notified the company that we are willing to recapitalise the business in event of both schemes failing," he said. "We believe the company needs less than $100 million of equity capital and are willing to underwrite a large component of this."
"We are not afraid of the deal breaking and the share price potentially falling – we owned it down to 77¢ at the bottom of COVID. If that's what it takes, so be it."
Mittleman chief investment officer Chris Mittleman said the firm continue to believe the valuations are "atrociously low".
"It is brazenly opportunistic and the IBC members should be ashamed of themselves for committing us to it," Mr Mittleman said.
Chair of the independent committee of the Village board of directors Peter Tonagh said the company still unanimously believes the transaction is the best option available.
"The cinema sector is undergoing significant structural change, not just temporary COVID impact while theme parks will continue to be impacted by domestic and international border restrictions," Mr Tonagh said. "The value of VRL has decreased materially since the beginning of the year due to its significantly higher net debt position, which continues to increase as a result of ongoing negative cashflows, and its significantly lower earnings. With all these factors in mind, the BGH proposal is attractive and will realise significant value for all VRL shareholders relative to all alternatives, including the status quo."
Village shares closed at $2.29 on Friday.
Business Briefing
Start the day with major stories, exclusive coverage and expert opinion from our leading business journalists delivered to your inbox. Sign up for the Herald's here and The Age's here.
Source: Thanks smh.com