NSW power play sparks divisions across Australia's energy sector
Some of Australia's largest clean energy investors have thrown their support behind an ambitious strategy to stimulate the construction of new wind, solar and pumped-hydro projects in NSW, but big power companies say the plan needs further scrutiny.
A coalition of local investors across 49 renewable energy assets including Macquarie Capital, John Laing, RWE Renewables and Lighthouse Infrastructure expressed confidence in the NSW government energy "roadmap" released on Monday.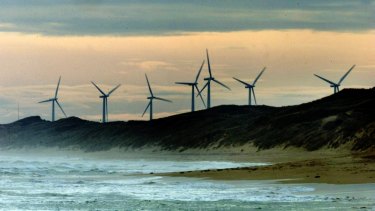 "This roadmap is a welcome plan for private-sector investors, harnessing the power of private markets to accelerate NSW's renewable energy goals," Clean Energy Investor Group chairman Simon Corbell said.
NSW Energy Minister Matt Kean said the new plan would lead to lower prices by ending the policy uncertainty which had discouraged investment, while driving investment into renewables to slash emissions.
"Our roadmap has been designed to deliver the cheapest and most reliable energy to NSW citizens," Mr Kean said. "We're providing the right market signal to encourage the private sector to build the generation storage."
The plan designates Renewable Energy Zones – areas earmarked for less red tape and faster approvals for transmission infrastructure. The target is to deliver 12 gigawatts of new renewable energy and two gigawatts of storage, such as batteries and pumped hydro.
A critical part of the plan is commissioning new projects through reverse auctions for long-term contracts that would provide energy companies a guaranteed minimum price for their power generation. Mr Kean said this would shield investors from future power price rises, so investors could bank on a minimum rate of return.
"If the prices drop below the floor price, consumers will pay but in a way that contains their risk of higher prices. They would still pay less than they would otherwise," he said. "This is because investors are willing to go ahead with projects at lower energy prices due to the extra certainty."
However, representatives for Australia's top power suppliers including AGL, Origin Energy and EnergyAustralia urged caution and raised concerns about the plan's potential to undermine existing efforts to improve the east-coast power grid. They warned the intervention could distort investment signals for private generators by protecting new projects from low prices.
"We understand the desire of the NSW government to ensure reliability and manage energy costs – we share those concerns," Australian Energy Council chief executive Sarah McNamara said. "But there are existing mechanisms in the National Electricity Market to encourage investment in new generation."
Given the interconnectedness of the power system, Ms McNamara said energy reliability was best managed at a national level rather than state-by-state.
Australia's second-largest superannuation fund, Aware Super, which manages $130 billion in people's retirement savings, was another supporter of the plan on Monday.
Aware's chief investment officer, Damian Graham, said the super fund had targets to increase its exposure to renewable energy, but significant capacity constraints in the grid had been a barrier to investment opportunities.
"We believe climate change is one of the most significant financial risks to our portfolio and our members' long-term financial security," Mr Graham said.
"Announcements like the NSW government's electricity infrastructure roadmap help to provide long-term investors like Aware Super with more certainty."
The nation's largest power generator, AGL, said it would "take some time" to review the detail of the announcement and engage with the state government to better understand the implications.
Market Recap
A concise wrap of the day on the markets, breaking business news and expert opinion delivered to your inbox each afternoon. Sign up for the Herald's here and The Age's here.
Source: Thanks smh.com