Domain to cut $100 million in costs as critical spring selling season 'less pronounced'
Real-estate listings company Domain unveiled plans to cut almost $100 million in costs in the first half of the new financial but has warned the crucial spring selling season has been weaker than in previous years.
Domain was one of many companies that was forced to scrap its dividend at full year results due to increased financial pressure caused by economic factors related to the coronavirus pandemic. The company swung to a $227 million loss, dragged by a major write-down of its digital division, while revenue fell 22 per cent.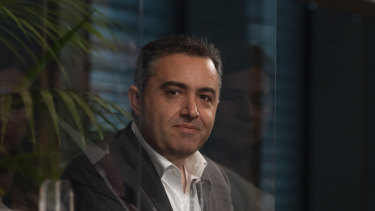 At its annual general meeting on Tuesday, Domain told investors it would save $96.5 million – 12 per cent – in costs in the first half through the JobKeeper scheme and its program, Project Zipline, which gave staff the option to reduce the amount they were paid in cash for share options.
Excluding those two factors, costs will be down 1 per cent. The company did not provide earnings guidance, but said digital revenue had climbed 4 per cent since the fourth quarter of last financial year to October 31, while total revenue was down 7 per cent.
"The market had a soft start to the year, as a seasonally low period was exacerbate by the impact of the bushfires," Mr Pellegrino said. "Melbourne's shutdown sent overall volumes down again in August and September. We have seen a seasonal uplift in October for the spring selling season, however this has been less pronounced than in previous years."
"Continued investment in growth initiatives (including product development, marketing, and driving sales performance) is being supported by ongoing cost discipline."
Domain shares sank 6.9 per cent to $4.30 on Tuesday in a rising broader market, while rival REA shares dropped 4.7 per cent to $132.90. The stock was hit hard earlier this year when social distancing rules led to restrictions on open homes and sparked fears of a property rout.
However, it has since rebounded and remains within striking distance of record highs at $4.38 touched last week. Domain is majority owned by Nine Entertainment Co, which owns The Sydney Morning Herald and The Age.
Property listings bounced back slightly after restrictions were relaxed in New South Wales and forecasts are improving again with Victoria's relaxed rules. REA Group boss Owen Wilson said last week the Reserve Bank of Australia's decision to slash interest rates would provide certainty about the cost of borrowing.
"COVID won't be the major influence next year assuming we don't have a relapse in Australia. The bigger impact will be consumer confidence and employment – a COVID hangover. These are two factors that will play a bigger part in property market performance next year," Mr Wilson said.
Source: Thanks smh.com