Major health insurer becomes first in Australia to support medical cannabis treatments
HIF has become the first major private health insurer to publicly declare support for medical cannabis and one of the first to offer rebates for the treatments under their extras policies.
The announcement is a major step forward for the medical cannabis industry, which has gained lots of community support though it is not considered a first-line therapy by the Therapeutic Goods Administration and treatments are not listed on the Pharmaceutical Benefits Scheme.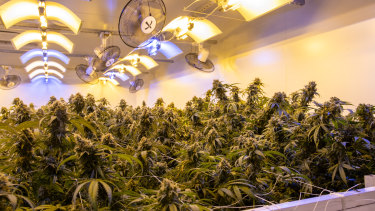 Under HIF's changes, customers who subscribe to its pharmacy drugs extras scheme can claim a maximum rebate of $80 per script or $105 if they are prescribed products from WA medical cannabis producer Little Green Pharma.
"As a member-based health fund, our community is the motivation for everything we do, so
assisting members through treatment options that can dramatically improve quality of life
across different life stages is a key focus," HIF chief executive Justin James said.
"Supporting members with medical cannabis as a treatment option is another choice we are excited to provide to members."
Mr James said global research into medical cannabis was showing promise and he would support more research being undertaken in Australia.
Last year the Grattan Institute warned the private health insurance sector was in a "death spiral" as younger people questioning the value of it dumped their policies. Post-COVID membership numbers have improved but less than half of Australians have private cover according to the Australian Prudential Regulation Authority.
Private Healthcare Australia chief executive officer Dr Rachel David said HIF's announcement demonstrated the sector's nimbleness compared to the government when it came to emerging medications.
"Health funds are primarily focused on the needs of their members and we do have the history of responding more quickly to consumer concerns and demands than maybe the government can," she said.
"Before the government funds something and provides subsidies it has a very high bar the industry must reach.
"We know there is a small group of people in the community who suffer from a range of nasty and intractable conditions who are seemingly helped by medical cannabis so it's reasonable HIF do this."
Little Green Pharma was the first Australian medical cannabis manufacturer to sell locally grown and produced cannabis medicines.
The announcement came the day after ASX-listed medical cannabis producer Zelira Therapeutics announced it had partnered with health clinic company Emerald Clinics to conduct observational trials for patients diagnosed with Autism Spectrum Disorder treated with Zelira's products.
Zelira managing director Richard Hopkins said it would be one of the largest observational medicinal cannabis studies ever undertaken in patients with ASD involving a specific range of products.
Source: Thanks smh.com