mRNA 'has put itself on the map' as vaccine news fuels markets
Strong early results from Pfizer and BioNTech's coronavirus vaccine trial could be the shot in the arm for new vaccine technologies, opening the door to new opportunities for biotech investors.
Platinum Asset Management's Bianca Ogden says the trial, while still in its early stages, showcases the longer term potential of mRNA technology that is at the heart of Pfizer and BioNTech's vaccine.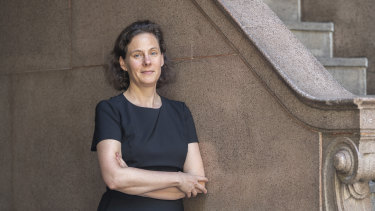 The mRNA technology is being applied to a range of COVID-19 vaccines, including the one being developed by US startup Moderna, and uses 'messenger RNA' strands to deliver information to cells, instructing them to build an immune response to the virus.
Platinum's international healthcare fund, which Dr Ogden manages, has backed a number of biotechs involved in vaccine making, including Germany-based BioNTech and Moderna.
It's a new approach but Dr Ogden sees an opportunity in the application of mRNA technology to develop new medical innovations.
"I think it still has to prove itself in other indications, but I look at the longer term — for example, cancer and mRNA," she said.
Platinum bought first into BioNTech at the pre-IPO stage in 2019, with shares then floating at an IPO price of $US15. BioNTech's shares rallied 15 per cent to $US104.80 on the back of the trial news and according to US company filings, Platinum owned 367,788 BioNTech shares at June 30.
Dr Ogden, who is German, said her interest in BioNTech was initially piqued after reading reports about the company and she later "picked up the phone" to learn more about it before investing. Prior to partnering with Pfizer on the COVID-19 vaccine, BioNTEch was using mRNA technology for a range of research projects, including more personalised cancer treatments.
"I was very convinced that the technology was moving faster than others," she said.
"In the end, mRNA technology has really put itself on the map now," Dr Ogden said.
The encouraging trial results have also sparked renewed calls from industry experts for Australia to invest in mRNA production technology, as none currently exists onshore. 
RMIT vaccine researcher Dr Kylie Quinn said Australia should consider its future investments in production technologies as early data from Pfizer validates mRNA as a new frontier.
"I think this result is proof of concept that this particular way of delivering a vaccine works," she said.
Investors had been predicting global markets would respond positively to coronavirus treatment developments this month. News of the positive vaccine data pushed global markets higher on Tuesday, with the ASX 200 jumping 2.2 per cent at the open.
However, cross-asset specialist at Fidelity, Anthony Doyle, cautioned while Pfizer's early data had beat analysts' predictions for efficacy, investors would still have to be patient to see the final results.
"The results have come in after day 28 so the long term duration of the vaccine is still not known, so the vaccine protection is hard to quantify," he warned.
Business Briefing
Start the day with major stories, exclusive coverage and expert opinion from our leading business journalists delivered to your inbox. Sign up for the Herald's here and The Age's here.
Source: Thanks smh.com