'It still happens': Sexism, inappropriate conduct rife in corporate Australia despite progress
Senior female board directors say there are still serious problems of abuse of power and sexual misconduct in Australian companies, but corporate culture is improving and shareholders are driving the change.
In an episode of the ABC's Four Corners on Monday night former prime minister Malcolm Turnbull said behaviour that occurred in politics had not been acceptable in Australian companies for decades."The attitudes to women and the lack of respect to women, of women in many quarters in Canberra reminds me of the corporate scene, you know, 40 years ago," he said. "It is, it's just not modern Australia – it really isn't."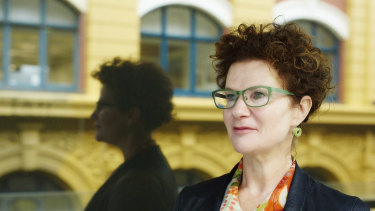 Reserve Bank of Australia board member Carol Schwartz said recent events involving Australian companies have shown there are different levels of tolerance to such behaviour in the corporate world.
"Shareholders and investors have made it very, very clear that they're not prepared to support that sort of behaviour inside a corporate," she said. "I think that's incredibly powerful … unfortunately it looks like politics is not under the same sort of pressure or doesn't feel that it's under the same sort of pressure."
However Ms Schwartz said Australian companies still had a way to go and she was concerned at the use of non-disclosure agreements to silence women subject to sexual harassment and discrimination. "You're always going to have rule breakers, like you do in every part of life," she said. "It's how that breaking of the rules is tolerated."
A sexual harassment scandal at AMP saw the resignation of chairman David Murray (though Mr Murray was not himself accused of any wrongdoing) and the demotion of AMP Capital boss Boe Pahari earlier this year.
Mr Pahari was demoted after AMP settled a sexual harassment claim brought by a female subordinate. Insurance giant QBE, David Jones, ANZ Bank, IFM Investors, AFL and Seven West Media have all been embroiled in workplace scandals in recent years.
Prominent board director Kirstin Fergusonsaid while Australian companies were moving more quickly than they did in the past, more work was needed.
"I think the reaction at AMP recently was a real watermark in showing how tolerating that behaviour or being perceived to tolerate it is no longer accepted," she said. "Things have definitely changed for the better but the inability of women to feel able to speak up I think is still a very real issue."
Ms Ferguson said until there was a culture and policies that enabled people to feel safe speaking up it was difficult for change to happen.
"Everyone I know has had cases and situations of sexual harassment and found themselves in really difficult uncomfortable positions," she said. "It doesn't actually matter how senior you become as a woman, how far along in your career you might be, it still happens."
Marina Go, who holds multiple board seats, said corporate Australia had been slow to act at times in the past in particular in cases of relationships where there were power imbalances.
"If there's a power imbalance then there may be a point where the relationship sours and the more junior person's career is always harmed," she said. "It's not only unfair to those women and their careers, but it's also a negative for the culture of the organisation. So I think that boards have to care about this deeply."
Get our Morning & Evening Edition newsletters
Source: Thanks smh.com