Older workers discover insecure work is the new normal
You might not know it from the headlines on youth unemployment but 100,000 people aged over 30 have lost their job since March. It sucks to lose your job at any age, especially in the middle of a recession, but there is good reason to think about these workers in particular. That's because they will likely return to a very different sort of job to the one they left – and that could have far-reaching consequences for all of us.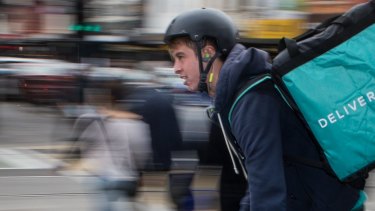 The pandemic will speed up the shift to a casualised workforce. If insecure work is not the new normal already, it will be soon. People who have lost a "standard job" – a permanent, full-time position with entitlements like paid holidays and sick leave and superannuation – could struggle to find another one.
Jim Stanford, the director of the Centre for Future Work at the Australia Institute, says only half the Australian workforce have standard jobs these days – the other half have part-time or casual jobs or are self-employed – and precarious work is pervasive.
It used to be that casual work was something teenagers experienced, or younger workers in their first couple of years after graduation. It's now quite common – even if it's sometimes called contracting – and the pandemic will accelerate this trend.
"People who once thought they would be safe because they had a few years' experience, or they have a university degree, or they worked in an industry that was growing and had a good skill, will find there's no safe haven any more from the precarity of our labour market," Stanford says. "I think that is a painful surprise for people who maybe thought that they had a comfortable, secure position."
I've spoken to many people in this position and with COVID-19, it's becoming more widespread. Take the 38-year-old woman from Sydney's inner west who spent months on JobKeeper before finally being made redundant from her permanent job in hospitality management. She has picked up casual work in the TV and film industry and is using up her savings between contracts because JobSeeker is means-tested again.
Or the 53-year-old man from Newcastle who lost his permanent job selling solar panel and battery systems. He has applied for 30 jobs since July, received one interview, and no offers.
This is not just a recession phenomenon. Many mid-career workers who have lost their jobs in the past few years have been working in contract roles ever since. One man lost a senior position with the Queensland public service in 2012 when he was 41. He came back five months later on a temporary contract and despite twice being approved to go permanent, it fell through both times. He has been looking for a job since March.
Another man was retrenched at age 53 after almost 30 years of service when Hazelwood Power Station in Victoria closed in 2017. He has spent the past three years doing casual work for a local business. This year, he has only worked 14 days since March.
Insecure work has social consequences, because financial stress is a known factor for mental health problems and relationship break-ups.
From March to September, the economy shed 348,500 jobs, figures from the Australian Bureau of Statistics show. Seven out of 10 of these jobs were held by people aged 15 to 29 and policymakers have been understandably worried about this age group. That's why the federal government announced its $74 billion JobMaker plan, which includes wage subsidies to employ people aged 16 to 35.
The intention is laudable but as always we should beware of unintended consequences – despite the name, the policy probably won't make jobs, but merely influence who gets them. This week Labor and the crossbenchers banded together in the Senate to try to introduce a safeguard to JobMaker, to make sure older workers wouldn't be sacked or lose hours in order to make way for a subsidised younger worker, but the Coalition rejected that and One Nation backed down, allowing the bill to pass in its unamended form.
Employers are already "obsessed" with employing people in the prime of their working life – between, say, the ages of 25 and 45. That's the view of John Buchanan, a business professor at the University of Sydney, who says age discrimination used to kick in for workers aged 55 but now it starts much younger. Buchanan says this trend is not new but the COVID-19 recession will make it worse.
This is not the suffering Olympics. We need to think about how to help unemployed people of all ages. And if policymakers can't figure out how to somehow encourage a return to "standard" conditions, we need to redesign our welfare and retirement system around the new reality.
Caitlin Fitzsimmons is a senior writer focused on social affairs and economics.
Source: Thanks smh.com