Pandemic prompts pilot's rewarding career change
Qantas pilot Scott Rennie was flying back to Australia from Dallas, Texas, in March when the federal government announced that overseas travellers would need to enter quarantine on arrival.
"I knew then this pandemic was real and likely to be with us for a significant amount of time," he said. "Initially I enjoyed the time off, went surfing and fishing, but I knew I had to start making plans to establish a new income stream."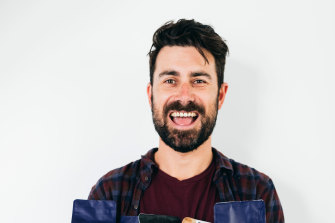 After flying for 15 years, Scott Rennie was among the many Qantas pilots who had to find another source of income because of the impact of COVID-19 on the airline industry. He started an online coffee marketplace.
Mr Rennie said other pilots had found jobs driving buses and tractors, labouring, working for supermarkets or making use of "old engineering degrees".
"It was a no-brainer to pivot really, and I tried to assess which industry might prosper if the pandemic hit really hard," he said.
"I'm lucky enough to be friends with some very successful small business people who encouraged me to [try] an idea I have had for a while but never knew how to get the technology up and running."
That idea was to set up an ecommerce shopfront representing coffee produced by a number of small speciality coffee roasters.
"We keep expanding, which is great and gives me the confidence that people want to drink better coffee at home and try new roasters from across Australia they might not of heard of," he said. "I'd love this site to continue to grow and the business model means I can continue building it alongside my primary career."
His move into small business stretched Mr Rennie's IT skills. He built an ecommerce website.
"I watched a lot of YouTube videos and spent countless hours chatting to online support people," he said.
"It's been a wild ride teaching myself new skills. I'd recommend it."
Mr Rennie, who lives in Kingscliff in north-eastern NSW, has also started a part-time job as a Shopify administrator for a well-known tackle shop in the Tweed.
While the pay doesn't come close to what he earned as a pilot, Mr Rennie says he has enjoyed the challenge of learning new skills.
"I will definitely be looking to continue in the web development/Shopify field after this pandemic is done with," he said.
New data from online platform LinkedIn shows that people in the recreation and travel industry are nearly three times as likely to now be looking for work outside that industry.
The LinkedIn data also found that industries that advertised fewer jobs since the start of the coronavirus pandemic included finance, which has experienced a year-on-year decrease of 8 per cent. Other sectors include energy and mining with a 12 per cent drop in jobs advertised, corporate services (down 21 per cent) and education (down 32 per cent).
LinkedIn said these industries were among those that were not experiencing the same level of recovery as others such as transport and logistics, which has doubled its job postings. There has been a 43 per cent increase in posts for healthcare jobs.
LinkedIn's Adam Gregory said people needed to focus on transferable skills including so-called soft skills that they could apply to other industries that were growing. In the case of pilots, Mr Gregory said the application of soft skills and "entrepreneurial spirit" would help more than their industry knowledge of flying planes.
"Thinking more around soft transferrable skills rather than industry knowledge is going to be where people are going to win," he said.
"The pandemic has had a more material impact on women and their ability to return to the workforce," he said. "Some of the industries that have been hardest hit were industries were females were more prevalently employed."
Source: Thanks smh.com