Seven West Media assures investors it still 'loves cricket'
Seven West Media has signalled its intention to keep the cricket broadcast rights after months of heated negotiations with Cricket Australia over price.
The Kerry Stokes-controlled newspaper and television company took Cricket Australia to arbitration last month after the two parties could not to come to an agreement over the value of the existing broadcast rights contract, which requires Seven to pay about $75 million per year.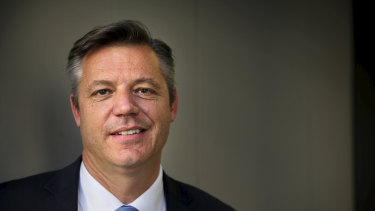 Seven chief James Warburton threatened to terminate the deal in August, arguing the sports body was in breach of its contract over its proposed summer schedule and has since taken the matter to the Australian Chamber for International and Commercial Arbitration. The two companies are waiting on an independent expert to determine the value of the rights.
Mr Warburton said the cricket needed to deliver a first-class product and that he would hold the organisation to account at the company's virtual annual general meeting on Thursday.
"Our ongoing process with Cricket Australia is much talked about," Mr Warburton told investors. "To be 100 per cent clear, we LOVE the CRICKET and we have a huge amount of respect for the athletes.
"Ultimately, we pay for media rights to deliver quality content and strong audience numbers. We paid for and expect a first-class product and we will hold Cricket Australia accountable to provide it, even if it means at times, we're outspoken."
Seven shares soared on Thursday morning after the release of the trading update, advancing 11.9 per cent to 24¢ per share in early trade before softening. At 11.30am, shares are 4.8 per cent higher at 22¢.
Mr Warburton said the company was well on track to deliver a turnaround next financial year, however declined to provide earnings guidance due to the uncertainty of the market.
Seven reported a 14 per cent decline in revenue to $1.2 billion in the last financial year while statutory earnings tumbled 49 per cent to $129.5 million due to the weak advertising market.
Seven was one of several local media companies to suffer large falls in advertising spending this year because of the coronavirus pandemic. Seven, which had a half a billion debt pile at the beginning of the year, cut a large amount of costs, sold off assets including the West Australian Newspapers' headquarters in Western Australia and its magazine division, Pacific. The company also renegotiated is debt facilities with lenders and is in advanced talks to sell off several other assets including its digital ventures businesses such as AirTasker and its studio division.
Mr Warburton said net debt at the end of October was $425 million. The company has $350 million in cash.
"The changes we have implemented so far position the business strongly to capitalise on a market recovery, but there is still much to be done," he said. "M&A remains very much on our radar, but our initial priority is strengthening the balance sheet so we can participate in future market consolidation and resume dividend payments to our shareholders."
Source: Thanks smh.com