'Terribly tricky area': Companies move carefully on work relationships
Many of the nation's biggest companies do not have policies in place governing office relationships, in a sign corporate Australia may actually be lagging Canberra on aspects of workplace culture.
On the ABC's Four Corners this week, former prime minister Malcolm Turnbull said behaviour that occurred in politics had not been acceptable in Australian companies for decades. "The attitudes to women and the lack of respect to women, of women in many quarters in Canberra reminds me of the corporate scene 40 years ago," he said. "It's just not modern Australia – it really isn't."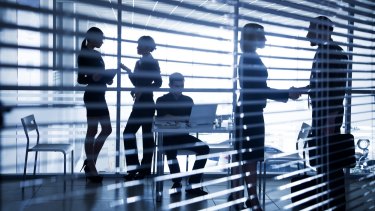 However, these so-called 'bonk bans' on ministers and members of parliament by political parties are in many cases stricter than the policies outlined by many companies.
The Age and Herald surveyed 50 of Australia's biggest companies on whether they have a policy governing relationships in the workplace. Of them, 42 of responded. More than half – 26 of the companies surveyed – confirmed they did have policies in place, five have no policy at all, and 11 declined to comment.
CBA, NAB, ANZ, Westpac, Graincorp, Orora, Treasury Wine Estates, SCentre, Xero, Autosports, Charter Hall, Newcrest, Stockland, GPT, Woodside, Seven, Nearmap, A2 Milk, Singtel Optus and Goodman said they had a relationships policy while Lendlease, Centuria, Afterpay, Incitec Pivot, Coca-Cola Amatil and Fortescue said behaviour was guided by their code of conduct.
The strictest of these relationship policies, such as Commonwealth Bank's, prohibit any relationships in the workplace between senior and junior staff. CBA chief executive Matt Comyn said the bank's policy around romantic relationships was contained in its code of conduct.
"I don't want to pass any comment on the Four Corners story, but we certainly believe in making sure we're upholding ourselves to the highest standards within the company and of course, being focused on supporting our customers," he said.
When asked whether this was a ban on relationships, he said "certainly from a reporting structure, so in terms of whether you are leading or managing or responsible for people in your team, then yes absolutely".
Other companies, such as mining giant Fortescue, focus on behaviour standards rather than on banning relationships outright.
"We do not tolerate inappropriate behaviour in the workplace that is not aligned to our culture and values," chief executive Elizabeth Gaines said.
Seven West Media's policy on relationships is one of the more detailed following the controversy in 2017 surrounding chief executive Tim Worner's affair with staff member Amber Harrison.
Alongside Seven, QBE, AMP, David Jones, ANZ Bank, IFM Investors and the AFL have all been embroiled in workplace scandals in recent years.
"Mutual attraction between people is not sexual harassment," Seven's policy states. "Conduct which is welcome or consensual is not unlawful, and friendships (sexual or otherwise) which develop between people who meet at work are a private concern."
The policy does not ban relationships but requires any relationship or conduct which gives rise to a conflict of interest or a perceived conflict of interest to be disclosed to a supervisor or manager immediately.
Qantas, Boral, Culture Amp, News Corp, and the publisher of this masthead, Nine Entertainment said they did not have policies governing relationships.
"It is a terribly tricky area," Culture Amp co-founder and chief executive Didier Elzinga said. "We do not have an explicit policy on that, although I would say that there is a very high bar set for the standard of behaviour for senior leaders and starting a relationship where there is a power imbalance is usually a very bad idea."
For a number of companies, the issue of workplace relationships is possibly too hot to handle.
Atlassian, BHP, Seek, Canva, Vicinity Group, MYOB, Cochlear, Dexus, Origin, Santos and AGL all declined to comment.
With Supratim Adhikari, Carolyn Cummins, Darren Gray, Charlotte Grieve, Simon Johanson, Emma Koehn, Zoe Samios and Nick Toscano.
Source: Thanks smh.com