'Let's see how they go:' Optus unfazed by Stan Sport launch
Optus chief executive Kelly Bayer Rosmarin has dismissed concerns about excessive competition in the streaming video market after the arrival of Stan Sport and revealed the telco will expand its fitness offering before searching for new content deals.
The Singtel-owned telco provider was considered a strong contender for Rugby Australia's broadcast rights package until the coronavirus pandemic this year. The rights ended up being acquired by Nine Entertainment Co, which operates Stan, and is also the owner of this masthead.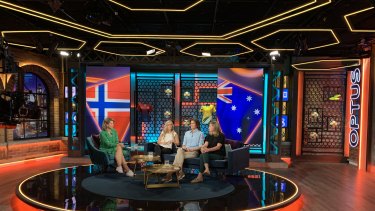 Optus has made a big push into online streaming since 2016, securing rights to broadcast significant soccer competitions including the English Premier League. Its Optus Sport platform has amassed 860,000 subscribers.
Ms Bayer Rosmarin said more than 10 per cent of Optus' current customer base had used OS Fitness, a channel for subscribers that offers home workouts since its August launch. "How relevant [fitness] is to a huge number of Australians is incomparable to some of the other sports rights we could look at in terms of its universality of appeal," she said. "We're just getting started there.
"It's fantastic when you can be innovative in the midst of a pandemic, and actually find something that's resonating with your customer base."
Nine will use the rugby rights to launch Stan Sport, an additional subscription product which was announced last week. Ms Bayer Rosmarin was not concerned about the potential for more competition in the streaming landscape, and for sports rights.
"Possibly [more competition for rights]," she said. "They're going to start with rugby and let's see how they go with that."
Analysis from Venture Research late last week said a move into streaming for sports codes could result in new revenue opportunities for organisations in the medium to long-term.
"But we don't expect this to result in any bonanza for sports bodies," the research said. "Our view has been that sports rights have been overvalued before 2020 and due for a correction (which has now been triggered by the COVID-19 crisis). Even with new interest in sports rights, we don't expect licensing revenues to rise, indeed we still expect them to fall."
Joseph Carrozzi, PwC Australia managing partner with experience on boards of the NSW Institute of Sport, GWS Giants and the FFA, said the broadcast landscape was being watched closely.
"The Nine/Stan rugby deal and also the recently announced Amazon Prime deal with NZ cricket shows the opportunity for sports to think carefully about future broadcast needs – accessing the right platforms and the right ways to connect with end users is more important than ever before," Mr Carrozzi said.
"It's a positive development for all sports. And it could emerge as a formidable competitor to News Corp and Fox Sports. Foxtel has tenure on its side but tenure has a very short self life in digital engagement."
Optus did not break out how much money it made in the half year from its sports division, but total revenue for the company fell by 9 per cent $4 billion. Earnings before interest, tax, depreciation and amortisation for the carrier were $997 million.
Source: Thanks smh.com