ASX set to push higher, CSL building a new vaccine plant
Summary
ASX futures up 51 points, pointing to further gains after last week's 3.5% rise
On Wall Street on Friday, Dow Jones Industrial average was up 1.4%, the S&P 500 was up 1.4%, and the gained Nasdaq 1%
Spot gold up 0.7% to $US1889.20 per ounce, Brent crude -1.7% to $US42.78 a barrel, WTI crude -2.4% to $US40.13 a barrel and iron ore -1.1% to $US122.37 a tonne
CSL to invest $800 million in a new vaccine production plant in Melbourne
Latest updates
Dalrymple Bay Coal IPO bookbuild this week
By

Colin Kruger



A decision on the Dalrymple Bay Coal Terminal initial public offering (IPO) is now set for this week.
Merrill Lynch and Citi released a term sheet last week putting the valuation of the company – currently owned by Canada's Brookfield Asset Management – at just under $1.3 billion with a security price of $2.37 and a dividend yield of 7 per cent.
The IPO is expected to raise $656 million with more than half going to Brookfield which will retain a 49 per cent stake. It was touted as the largest IPO this year, until forensic software company Nuix was valued at $1.8 billion. 
A book build for Dalrymple this week will determine whether there is enough demand for the business at this price and Brookfield is expected to make the final decision by Friday on whether the float will go ahead.
SkyCity's C-Suite clear out
By

Patrick Hatch



The chief executive, chief financial officer, and chief marketing officer of the dual ASX and ANZ listed casino group SkyCity have all resigned.
The company, which owns casinos in Adelaide, Auckland, Hamilton and Queenstown, announced the C-suite clean out on Monday morning, with CEO Greame Stephens to leave the company on November 30 after three and a half years at the company.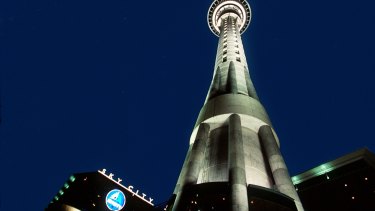 SkyCity said its chief operating officer Michael Ahearne has been appointed CEO effective from today, with Mr Stephens to "act in a support role" until he leaves in a fortnight.
The company said there was no need for a "lengthy transition due to seamless internal succession which had been planned for".
SkyCity chair Rob Campbell said it was "especially pleasing that SkyCity had such a strong internal candidate to assume the chief executive officer role".
CFO Rob Hamilton has also resigned after six years with the group and will leave the company in February to "pursue new opportunities", while CMO Liza McNally will leave in March to move to Adelaide with her family.
SkyCity shares closed at $2.96 on Friday.
Courtesy of Bloomberg
AUB Group Rated New Overweight at JPMorgan; price target of $20
Lendlease Cut to Hold at Jefferies; price target of $14.69
Synlait Milk Raised to Buy at Goldman; price target of $NZ7.02
Transurban Cut to Neutral at JPMorgan; price target of $15.50
CSL to build new vaccine plant, receives huge government order
By

Rob Harris

and

Sumeyya Ilanbey



Melbourne will become home to a new high-tech vaccine manufacturing plant in a billion-dollar deal to secure the nation's long-term supply of critical health products including influenza vaccines and life-saving antivenoms.
The complex at Tullamarine will be the largest influenza vaccine manufacturing facility in the southern hemisphere, allowing Australia to rapidly respond to flu outbreaks and pandemics.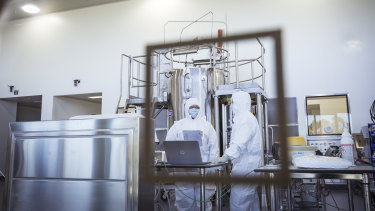 The federal government will sign a $1 billion agreement with Seqirus, the influenza vaccines arm of Australian biotech giant CSL, to secure supply until 2036 of medical products that would otherwise need to be sourced from overseas.
Seqirus will invest $800 million to create the highly specialised production facility at Melbourne Airport Business Park, which is expected to be operational by 2026.
Prime Minister Scott Morrison will on Monday visit CSL's Broadmeadows facility, which last week began manufacturing millions of vials of one of the most promising coronavirus vaccines.
Is the vaccine bubble real?
By

Kyle Rodda



IG MARKETS SPONSORED POST
Euphoria gripped financial markets last week, after pharmaceutical company Pfizer and biotechnology company BioNTech announced the successful production of a COVID-19 vaccine. The news came as a surprise to market participants, which – although expecting a
vaccine eventually – came much earlier than had been priced-in to financial markets. Though the vaccine still has several hurdles to jump-over before becoming available, the news led the markets to upgrade the outlook for the global economy, as the end of the pandemic potentially comes into sight.
Global equities closed the week's trade at fresh record highs, off the back of the COVID-19 vaccine breakthrough. The MSCI World Index hit its highest since August, while a late week pop saw the benchmark S&P500 also finish the week's trade at a record high. Notably, it's been the factors that have driven global equities higher that's garnered the most attention in the markets. Stock market strength has been underpinned by a rotation from growth stocks – such as the mega-cap tech names – to value stocks in the energy, financial and industrial sectors, as the
market positions for stronger global economic growth.
The vaccine news and rally in risk-assets came against the backdrop of a deteriorating situation in the US and Europe as it pertains to the virus. Case numbers continue to surge within both economies, with daily case numbers in the US hitting record highs in excess of 160,000, and new infections in the UK exceeding 50,000 during the week. Though market participants seem to be "looking through" the situation, tighter lockdowns in parts of Europe, hospitals reaching capacity in the US, and an increase in fatalities has many concerned that the markets have priced-in too much optimism.
Good Morning and welcome to today's Markets Live blog.
Your editors today are Lucy Battersby and Alex Druce.
This blog is not intended as financial advice.
Source: Thanks smh.com