Corporate Australia has not grown an ethical spine – it's just more risk averse
It would be way too simple to characterise the departure of Nine Entertainment boss Hugh Marks in the wake of a relationship scandal as evidence that corporate Australia has grown a conscience or an ethical spine.
It is true that Marks has joined a small but growing club of chief executives that have been pushed onto their swords for breaking cultural rules about conduct with subordinates.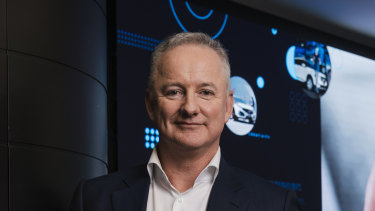 But in the corporate world it's less about morality and more about risk. Risk to the reputation of the company, the performance and focus of the senior leadership team, and in the case that a relationship goes pear shaped, risk the company itself might get caught up in the wreckage.
Investor tolerance for this kind of risk has become incredibly low in 2020, as some very high profile cases, including at AMP and QBE, have shown.
Every serious listed company now has a board risk committee that deals with all major financial and non-financial risks, from behaviour of management and staff to related party transactions and climate.
It is arguable executives could have gotten away with their indiscretions twenty years ago.
Last week's Four Corners expose on Canberra's ethical free-for-all shone a harsh light on the what goes on between politicians and their staffers in what has become known as the Canberra bubble.
The relationship at the centre of that program was between two consenting adults, and took place before the introduction of the infamous "bonk ban" preventing ministers having sexual relationships with anyone on their team.
And yet the public broadcaster's flagship current affairs program considered it in the public interest. Thus the nature of the game has changed.
Former prime minister Malcolm Turnbull correctly likened Canberra's highly charged culture to corporate Australia forty years ago – a time when he worked as an investment banker.
The difference is that corporations have become accountable to their large institutional shareholders, who in turn are accountable to the people whose money they invest.
Behaviour has become a part of the social licence under which businesses now have to operate.
Shareholders are not concerned about whether these behaviours constitute a breach of an official corporate policy about relationships in the workplace. Many companies including Nine had not enshrined workplace relationships into official corporate policy.
It is hard to understand why those who have reached the top echelons of corporate Australia need a set of rules to alert them to the perils of mixing work and romance, but we have reached a point where the rules, as inconsistent as they are, are lagging behind the standards demanded by investors and the public.
You don't have to break the rules to break the trust.
The AMP was savaged by its shareholders earlier this year after one of its most senior executives, Boe Pahari, was the subject of a sexual harassment claim from a more junior staffer. Another of AMP's divisional head's Alex Wade made a swifrt exit after he allegedly sent a female employee explicit photos.
Pahari was ultimately demoted and the episode led to the resignation of AMP chairman, David Murray and senior director John Fraser over their handling of the scandal.
Insurance giant QBE avoided a similar fate by when its chief executive Pat Regan quickly left after he allegedly breached the company's internal code of conduct while corresponding to a female employee.
QBE chairman Mike Wilkins had previously been a director (and for a short time chairman) of AMP in the months before its harassment scandals were unearthed.
In 2017 Wilkins had docked the pay of Regan's predecessor, John Neal, for not disclosing a romantic relationship with his executive assistant.
It is arguable that all these executives could have gotten away with their indiscretions twenty years ago.
In 2016 Seven West Media's chief executive, Tim Worner, was the subject of a complaint by former lover Amber Harrison. It was a sordid media sensation fuelled by allegations from each side of everything from drugs to misuse of corporate credit card expenses.
He survived the episode thanks to the tutelage of Kerry Stokes who ultimately controls the media group. Worner departed several years later in response to the company's poor financial performance.
Despite the heightened focus on the conduct of executives, affairs and sexual harassment will be impossible to eradicate entirely.
But if it comes to light, the consequences will only get harsher.
Source: Thanks smh.com