'Not about revenue': Investors see hidden values in CSL plant deal
CSL investors say the company's new flu vaccine facility won't provide a short-term revenue boost but will give the business a global edge as well as cementing itself as a key tool for fighting future pandemics.
The federal government inked a $1 billion deal with CSL's vaccine producer Seqirus on Monday for supply of products until 2036. Seqirus confirmed it will invest $800 million in company funds to build a new flu vaccine manufacturing plant at Tullamarine in Melbourne, set to open in 2026.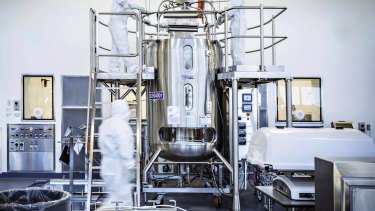 The facility will be focused on making influenza vaccines, as well products such as anti-venoms to counter Australia's deadly snakes and spiders. The new site will enable Seqirus to produce vaccines using cell-based technology, which provides significant advantages in speed and flexibility compared with the company's current manufacturing methods which involve growing the flu virus in chicken eggs.
Seqirus' general manager, Stephen Marlow, said new cell-based technologies would help the company respond more quickly during periods of high demand for vaccines.
"What we're seeing with the new cell-based technology that we're bringing in is we can produce [doses] somewhere in the region of three times quicker. So you can imagine how important that is in an influenza pandemic, that we can respond that much quicker," he said.
Wilson Asset Management portfolio manager John Ayoub said news of the new plant was positive but wouldn't be "a game-changer" in terms of the company's financials. "I think this isn't about revenue, it's about security. It provides tenure for CSL and surety for CSL," he said.
CSL acquired the Novartis influenza vaccine portfolio in 2015 for $US275 million and then rebranded its bioCSL arm to Seqirus. Over the past four years it has turned the business from a loss-maker into an operation that booked $US1.3 billion($1.8 billion) in revenue in 2020. By comparison, CSL's plasma products arm Behring made $US7.6 billion.
Seqirus produced record numbers of flu vaccines for Australia this year as demand spiked due to COVID-19. The company has repeatedly told investors it expects global demand for flu vaccines will stay strong even after coronavirus.
Chief investment officer at Australian Eagle Asset Management Sean Sequeira said he didn't expect the increase in demand for influenza products to have a big impact on CSL's revenue. However, he said news of the government funding and new plant was a positive as it more closely intertwined Seqirus with government pandemic responses.
"It basically integrates them into the government's responses, they will be the first port of call. And it allows governments overseas to be able to rely on a company that they know will be there in 10 years."
Australian equities fund manager at Pengana Capital, Rhett Kessler, said the news "underpins our positive investment thesis for CSL".
"CSL's ability to offer sophisticated governments long-term leading edge health solutions creates meaningful buy-in from health departments via multi-year contracts," he said.
"[It's] yet another validation of CSL's decision to acquire the Seqirus assets several years [ago] as well as the company's ability to successfully improve the business."
CSL shares posted gains on Monday, up 1.8 per cent to $315.03, although trading was interrupted and subsequently closed due to an outage at the ASX.
Market Recap
A concise wrap of the day on the markets, breaking business news and expert opinion delivered to your inbox each afternoon. Sign up for the Herald's here and The Age's here.
Source: Thanks smh.com