'Significant concern': ASIC to probe ASX meltdown
The corporate regulator has flagged the possibility the ASX breached its market licence obligations and expressed alarm after a new trading system failed and forced the stock market to stop trading and close early on Monday.
The benchmark index, which opened strongly and pushed to near nine-month highs, paused unexpectedly at 10.24am and was frozen for more than four hours. The ASX later said the outage was due to glitches caused by the launch of a new ASX Trade system developed by technology provider Nasdaq. Trading was called off for the day at 3pm.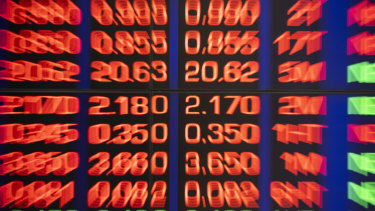 "ASX and its technology provider Nasdaq have identified the root cause and a resolution path to fix it," a spokesman for the market operator said on Monday afternoon. "A software issue limited to the trading of multiple securities in a single order (combination trading) created inaccurate market data.
"ASX is very disappointed with today's outage and sorry for the disruption caused to investors, customers and other market users," ASX managing director Dominic Stevens said.
The Australian Securities and Investments Commission (ASIC) said it would consider whether ASX followed all of its Australian market licence obligations. "ASIC views outages of this nature with significant concern," it said.
"The ASX is one of the world's most active and visible public markets and forms a critical part of Australia's national economic infrastructure. Well-functioning financial market infrastructure is critical to the integrity and reputation of the Australian equity market and the trust and confidence investors have in it."
The S&P/ASX 200 rose as much as 1.3 per cent to 6487.3 in early morning trade – the highest intraday mark since early March. It finished 1.2 per cent higher at 6484.3, its best close since February 27.
Monday was the worst trading outage for the ASX in four years and the latest technical snafu for the market operator, which has suffered a number of difficulties following an unpopular website relaunch.
Senior investment adviser with Shaw & Partners, Adam Dawes, said trading was difficult as soon as the market opened on Monday. "We were placing orders at 10.15am and 10.20am and they were failing. We were continually trying to push them through. We were having problems from the get-go," he said.
Chief economist at BetaShares ETFs David Bassanese said the incident did not reflect particularly well on the ASX. "Obviously it is not a good look," he said.
"They want to be able to at least provide an operating market."
Vic Jokovic, managing director of the competing exchange, Chi-X, said his platform could have handled all of the Australian volumes if the ASX had not left millions of orders in 'inquiry' mode.
"If your order is already sitting with the ASX you would have doubled up," he said. If orders were sent back to brokers they could have executed trades on Chi-X's exchange instead.
"It is absolutely by design. They (ASX) are in no hurry to alter it. It has been two years since the industry gave them feedback on exactly that point."
Burman Invest chief investment officer Julia Lee said many traders would have been frustrated that a day of likely big gains was cut short.
"But undoubtedly most traders would have preferred this happen on a down day rather than an up day."
In recent months cyber security issues forced the New Zealand stock exchange to halt trading in a number of sessions in late August and early September. A spokesman for Australian Signals Directorate referred queries about a potential cyber attack back to the ASX, implying it had not been informed about any external security problems. Japan's Nikkei also suffered technical problems on September 30 and was forced to halt.
Market Recap
A concise wrap of the day on the markets, breaking business news and expert opinion delivered to your inbox each afternoon. Sign up for the Herald's here and The Age's here.
Source: Thanks smh.com