Afterpay keeps investors on toes with another round of musical chairs
Afterpay's latest game of executive musical chairs certainly looks odd, given it was only 18 months since the music last stopped. It's not clear what prompted last July's executive shake-up or why this latest attempt was needed.
The billionaire founders of Afterpay will now share the chief executive role, replacing the previous structure under which Anthony Eisen reported to Nick Molnar.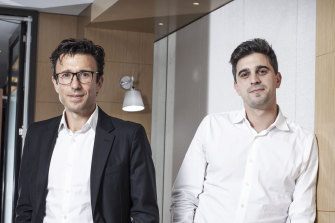 Presumably having equal executive billing is designed to overcome any tension created by differences in management seniority. Molnar will head to the US to oversee the company's expansion plans, while Eisen will look after things at home.
Sure, the new structure is a little unconventional. but Afterpay is no stranger to breaking with convention.
The company breaks new ground with almost everything it touches.
The performance measures used in its long-term incentive plan certainly breaks with the norm.
Afterpay says the underlying sales and net transaction measures are metrics to assess performance during this phase of the company's evolution.
Critics, including some proxy firms, argue these are unauditable and difficult to verify.
And given Molnar and Eisen have their bonuses heavily skewed to these incentives, they stand to be handsomely rewarded if the targets are met or exceeded.
Their base pay of $450,000 a year is disproportionately light on relative to the company's market capitalisation of $27.5 billion.
But it is in terms of performance that the company has veered most from the pack.
Active customers grew almost 100 per cent in the September quarter against the same quarter a year ago, while underlying sales grew 115 per cent.
While many wise investment heads cannot come to terms with the value of Afterpay's shares, they have no option but to jump on board or risk underperforming the market.
Afterpay's meteoric share price rise has produced its own momentum.
There are days, including Tuesday, when the share price comes under pressure for reasons that have little to do with the company and almost everything to do with an investor pivot from growth to value stocks.
The market has executed this backflip a number of times this year – each one coincides with hopes that an efficacious COVID vaccine is closer to regulatory approval by various international health authorities.
Last week it was the Pfizer vaccine candidate that indicated it was 90 per cent effective and ready to roll out to a small number of people later this year and to a larger part of the community in 2021.
On Monday in the US another drug maker, Moderna, released data showing its experimental vaccine was almost 95 per cent effective.
Such a prospect put a rocket under stocks that had been decimated by the economic effects of COVID. Take a look at, say, Flight Centre and Qantas, which got a handy share price boost from the vaccine.
The more positive feeling about the economy also translates into rising bank stocks – and this was evident in the outsized share price gains on Tuesday by ANZ, NAB, Westpac and, to a lesser extent, the Commonwealth Bank.
Conversely, growth stocks like Afterpay, which have widely outperformed in terms of financial and share price performance, have been hit. This includes others in the buy now, pay later space like Sezzle and Zip.
Having said that, companies like Afterpay that trade on exorbitant multiples need to constantly reassure the market that there are no slip-ups or no hidden obstacles.
On the regulatory front, the Australian Securities and Investments Commission released an update on the buy-now-pay-later industry on Monday. While it outlined some broader concerns about consumer spending being diverted from essentials to non-essentials due to BNPL, it did not raise the spectre of additional regulation in the near term.
Some brokers are said to have been disappointed that Afterpay didn't update its sales and additional customer numbers on Tuesday.
However, Afterpay updated the market on its September quarter numbers less than three weeks ago.
Market Recap
A concise wrap of the day on the markets, breaking business news and expert opinion delivered to your inbox each afternoon. Sign up for the Herald's here and The Age's here.
Source: Thanks smh.com