Calls for cigarette style warnings on high risk financial products
Former competition tsar Allan Fels says there is a case for cigarette package style warnings on high-risk financial products to help consumers amid fresh signs of failures by regulators to crack down on dodgy trading schemes.
A six-month investigation by The Age and The Sydney Morning Herald over the weekend revealed that a crime gang subject to a major FBI investigation and fraud charges in the United States operated with impunity in Australia for nearly 10 years while another broker was financed by notorious underworld figures.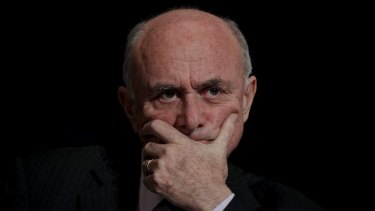 The investigation also showed the Australian Securities and Investments Commission missed opportunities to cancel the licences of these operators years earlier and as a result, thousands of Australian investors have been affected.
Treasurer Josh Frydenberg declined to answer specific questions on the news reports and sidestepped questions about ASIC's failures. "It is not appropriate for the Government to comment on specific allegations regarding possible breaches of the law. Decisions about enforcement are matters for ASIC."
"The government supports ASIC using its product intervention powers to intervene where high-risk financial or credit products will or are likely to result in significant consumer detriment."
But Professor Fels said if Australia wanted to continue to allow these products to be sold to retail investors then it should consider stronger warnings.
"This would be the equivalent of attaching a cigarette-style warning to the product when being sold and making it clear that there can be life-changing consequences of this investment."
Most operators do include warnings but they are often in the fine print or alongside sale pitches that also tell investors of the financial benefits of these products.
The products can be useful tools but carry risk for novice investors. Federal Court judge Jonathan Beach recently referred these products as "financial heroin" hits, and most consumer advocates view the products as gambling products.
The Australian Competition and Consumer Commission has written reports warning investors of binary option scams. It's current chairman Rod Sims declined to comment.
Shadow Treasurer Jim Chalmers hit out at the Liberal government's funding of the regulator and its legislative program following the reports.
"Australians continue to pay the price for this Liberal government which has failed to take oversight and regulation of the financial services sector seriously."
"Australians need a properly resourced, robust corporate cop on the beat that they can trust."
ASIC recently brought in temporary limits on CFDs but has delayed its plans to ban the most dangerous types of these investment products, known as binary options, but has delayed that ban. These rules are still lagging those in the UK where the regulator has been able to ban products permanently since 2018.
Consumer advocates criticised the government for not doing enough to stop consumers from being harmed by high-risk financial products that have become prone to investment scams and organised crime groups.
Choice director of campaigns Erin Turner said the consumer group had long-held concerns about risky financial derivatives she described as being akin to gambling products.
"A lot of our regulatory system gives the industry the benefit of the doubt when there's consumer harm."
"To make the regulator more cautious, the law introduces a consultation period. So it's not a proactive power, it is reactive, there has to be evidence of a problem. They have to gather information. They can't ban something that's definitively harmful."
Source: Thanks smh.com