Universal Store still keen on physical stores as shares soar on ASX debut
The chief executive of newly-listed fashion retailer Universal Store says the company still plans to significantly expand its physical store footprint despite COVID-19 turning bricks and mortar retailing on its head.
Alice Barbery, who heads up the trendy youth-focused merchant, said increasing Universal's store footprint was still a key part of the company's expansion plans, flagging Australia's major shopping centres as her number one targets.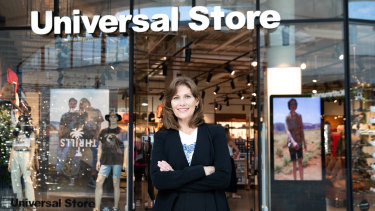 "Of the 95 biggest shopping centres [in Australia] we're in just over half of them," Ms Barbery said. "So there's plenty of great growth there in that regard.
"But it's about getting the right deals with landlords. I won't just open anywhere, it has to be commercially appropriate to do so."
Universal operates 65 stores around the country and sells a range of popular youth-focused fashion brands, including Patagonia, Dickies, Stussy, Lacoste and Wrangler.
On Tuesday, the company enjoyed a strong, albeit delayed, debut on the ASX boards. Shares were originally intended to begin trading at noon on Monday, however, the bourse's unexpected shutdown postponed the float.
Nevertheless, investors reacted enthusiastically to the retailer's listing, with shares soaring 21 per cent to $4.60 on Tuesday a solid rise from their issue price of $3.80. The company's market cap is currently around $280 million and it holds the title of the third-largest IPO this year after Adore Beauty and Home Co daily Needs REIT.
Universal's top shareholders include retail veteran Brett Blundy's investment vehicle, which holds 16.4 per cent, and Five V Capital with 5.5 per cent. The Myer family also holds 3.1 per cent.
Ms Barbery, who's retail career includes stints at Colorado and Gap, said the strong showing was positive but noted it was "early days" for the retailer, which is currently preparing for the Christmas rush.
Universal's primary demographic are shoppers under the age of 35, a cohort Ms Barbery believes will still be keen to spend this holiday season, especially as tourism opportunities remain muted.
"People can't go on that ski trip to Japan or Switzerland this year, there's a lot of expenses which would normally go to other things that will probably flow back through to gifting and buying that new outfit," she said.
"Our customers are telling us that they just want to burn everything they've been wearing for the past several weeks, so I'm being cautiously optimistic."
Ahead of its expected listing on Monday, Universal released a trading update showing comparable sales since the end of September had continued to grow, up 33 per cent, and its recently reopened Melbourne stores had also done well, with comparable sales up 23 per cent for the two weeks leading up to November 15.
Ms Barbery acknowledges that Universal's core customers would have been major beneficiaries of the government's JobKeeper and JobSeeker schemes, but isn't worried about their pending removal in March, saying she's bullish that the economy will be in a good state by then and young workers will be back in jobs.
"My job is to be the retailer of choice, and to take as much market share of whatever dollars are out there," she said.
Source: Thanks smh.com