Virgin ready to take on Qantas after seven-month rebuild, says Deloitte
Virgin Australia's administrator says the airline is primed for success and will compete fiercely against Qantas after rebuilding itself almost from scratch during a seven-month insolvency restructuring.
Deloitte completed the sale of Australia's second-largest airline to Bain Capital on Tuesday with the transfer of all Virgin's shares to the US private equity group and its delisting from the ASX.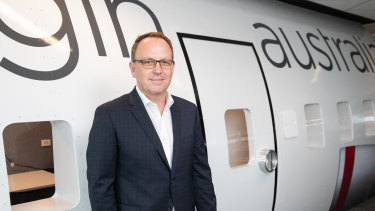 The milestone marks an end to a period in administration that started in April when the COVID-19 crisis pushed the long-struggling carrier into bankruptcy owing $6.8 billion.
Deloitte joint administrator Vaughan Strawbridge said that although Virgin was being relaunched into what remains the toughest industry environment in living memory, with international and state borders remaining shut, he was confident Virgin was now capable of survival.
"When we were appointed there was a transformation plan which the business was working through," he said. "What we've been able to achieve in administration is to be able to completely restructure every single component of the business."
During the administration Deloitte has cut Virgin's workforce from 9000 to 6000, axed its international fleet, shut the budget arm Tigerair and trimmed its domestic fleet from about 80 jets to 56 Boeing 737s, with a view for Bain to increase that to 75 as the aviation market recovers.
Mr Strawbridge said major cost savings came from moving to a single domestic fleet type, negotiating flexible "power by the hour" leases with aircraft lessors, rewriting hundreds of other contracts stretching from catering to in-flight entertainment, and moving its head office. Wage agreements are still be renegotiated.
He said all that made Virgin well placed to "navigate the challenges that lie ahead" and be "a fierce player in the industry going forward".
"We've been able to set the business up for the future, and not only right-size it but do the right thing around the cost base," Mr Strawbridge said.
He declined to quantify the reduction in Virgin's cost base in financial terms but said he was sure the airline's competitors would "love to know that".
Tuesday was also the last day for Virgin's chief executive Paul Scurrah, who joined the business early last year. Bain replaced him with former Jetstar boss Jayne Hrdlicka last month, saying Virgin needed a "different form of leadership to survive".
The executive change enraged Virgin's unions, which supported Mr Scurrah's leadership and vision for the business and backed Bain's takeover bid with the assurance it also supported Mr Scurrah.
Mr Strawbridge would not be drawn on whether Bain had broken its assurances to Virgin's workforce, but said Mr Scurrah made the"difficult" decision to step aside after he "achieved exactly what he wanted to achieve".
"He wanted to see this business come out of administration and the business is in a much better position than it was going in," he said.
"Paul's shown amazing leadership – he's been instrumental in leading his team and working with us around achieving the objectives of the administration."
Bain will pay between 9¢ and 13¢ in the dollar to unsecured creditors through the takeover, depending on final claims from creditors, or between $462 million and $612 million.
Deloitte says "total commitment" from Bain to takeover Virgin is around $3.5 billion, which includes employees' entitlements, customer travel credits, the assumption of secured debts and aircraft leases and the cash returns to unsecured creditors.
Source: Thanks smh.com