Crown's move to fess up over dirty cash backfires badly
The snafus just keep coming. Crown Resorts executed a double backflip on the likelihood of dirty money being laundered through its bank accounts. Commissioner Patricia Bergin marked this belly flop – scoring it a zero.
In what was a dramatic day for Crown the NSW gaming regulator decided to put a halt to its planned December 14 opening of its Barangaroo casino.
The Independent Liquor and Gaming Authority (ILGA) said it was hoping Crown would have volunteered to hold off on its opening. Yet again Crown didn't read the mood of the room.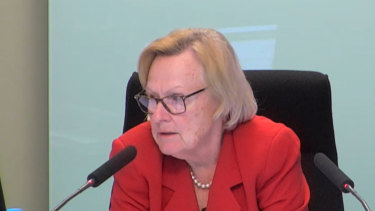 It's difficult to know who is calling the shots over at Crown but it is displaying more of the old Crown DNA, not a company that can accept its immense mistakes and misjudgments.
Crown's 11th hour concession that its bank accounts could have been vessels for money laundering is the latest in its attempt to convince the NSW commission it is suitable to operate a casino licence in Sydney.
After outside consultants had been finally put on the case of looking at two of its now-closed bank accounts they had uncovered what is called "cuckoo smurfing" – a term used to describe money laundering.
But Crown's move to fess up to the commission seems to have backfired badly.
Rather than providing Commissioner Patricia Bergin with comfort that Crown had turned over a new and more self-aware leaf, she was enraged it had only now been uncovered and that a more timely investigation on the issue had not been undertaken thanks to advice from Crown's external lawyers.
"The seriousness of this cannot be understated," Bergin said, adding this was relevant to Crown's suitability to hold a casino licence.
Communicating this about-face in what Bergin described as "the middle of the night" to her team was a serious error of judgement.
Inundating the commission with last-minute documents just opened up new cans of worms – not the least of which is that the commission's team of lawyers would need time to understand what they meant.
The hearing seemed to be a desperate scramble. Crown's most senior counsel, Neil Young, QC, was brought in after lunch to answer some of Bergin's questions and attempt to rescue the day.
The other issue about which Bergin seemed particularly unimpressed was that hours of witness testimony had been wasted in answering questions about money laundering in the two Crown accounts, Riverbank and Southbank.
Bergin understands she is under a very tight timetable to hear all the evidence, the submissions from counsel assisting, Crown and Packer's CPH.
The new Crown evidence dump is not the first time the company has frustrated Bergin, who had needed to deal with, for example, Crown's announcement earlier in the week that it will change its policy on dealing with junket operators.
Crown's own legal counsel, Robert Craig, SC, struggled to answer questions from Bergin and regularly had to seek leave to ask his own team of solicitors.
The hearing seemed to be a desperate scramble. Crown's most senior counsel, Neil Young, QC, was brought in after lunch to answer some of Bergin's questions and attempt to rescue the day.
Counsel assisting the commission had already recommended Crown was not suitable to hold a casino licence in NSW and that its largest shareholder James Packer was not a suitable associate for a casino licensee.
Crown and Packer's company CPH have argued against those recommendations over the past 10 days saying the company had taken significant steps to improve the controls around money laundering, risk and governance.
We will know in February whether Bergin has been convinced when she hands down her report.
She certainly has the option of allowing the company to retain its licence, conditional on making improvements.
But for now at least the regulator, ILGA, hasn't been swayed by Crown's defence. "The authority has found ongoing evidence before the Bergin inquiry to be extremely concerning, and that any gaming activity at the casino before the inquiry's findings are released in February 2021 and considered by the authority would pose unacceptable risks on the community against the public interest."
There it is.
Business Briefing
Start the day with major stories, exclusive coverage and expert opinion from our leading business journalists delivered to your inbox. Sign up for the Herald's here and The Age's here.
Source: Thanks smh.com