Financial advice should be tax deductible, says IOOF chief
Wealth management firm IOOF's chief executive Renato Mota has called on the government to make financial advice tax deductible to make it more affordable, and criticised industry leaders blaming rising regulation for mounting costs as wanting an "easy out".
The Australian Securities and Investments Commission opened submissions to the financial industry on Tuesday as part of a broad consultation on how to make financial advice more affordable. More than 3600 advisers have exited the industry over the past two years as new regulations were introduced to improve the quality of advice by mandating education standards and enforcing more checks and balances.
ASIC said the purpose of these reforms has been to improve consumer outcomes and public confidence in the scandal-ridden industry, but the changes have forced many advisers out the door, causing "widespread concern" that advice has become unaffordable.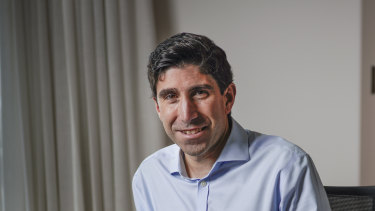 Mr Mota said regulation was only "one input into the cost of advice" and a simple way the government could push prices down was to make the service tax deductible.
"If you're providing a tax deduction, that means the government is receiving less tax," he said. "But it's something that we think is worthy of further consideration."
Mr Mota said ASIC could improve guidelines around the intention of the best interests duty – that requires advisers to examine all products owned by a client before providing advice.
"If someone comes in and wants to understand whether they should contribute more to super, the line of inquiry is very broad," he said. "The process tends to be quite expansive, and in that, in tends to be quite expensive."
However, he said investing in technology and embracing phone-based and digital services would further reduce costs and companies should not only push for cutting red tape to make advice affordable.
"There's no doubt that streamlined regulation could assist, but it's only one input," he said. "I think it's an easy out just to blame it on regulation. I don't think that's a holistic position."
The financial advice industry has gone through a period of rapid change after the banking royal commission revealed the sector was rife with conflicts of interests that led to poor outcomes for customers.
IOOF has worked to stamp out misconduct by banning kickbacks for advisers who sell in-house products and tightening audit standards, Mr Mota said.
"For us, it's really, really important the only revenue an adviser can generate comes from [the] client. There is no incentivisation, there are no KPIs around products, at all."
Regulations were relaxed in April to allow super funds to provide more information to members about their financial position over the phone through the intra-fund advice model. AMP Financial Planners Association chief Neil McDonald said there needs to be a clear delineation between advisers providing product information and proper advice.
"Our view as association is that intra-fund advice should not be called advice at all. It should be called assistance," he said. "It confuses clients into thinking they're getting advice when all they're getting is information about AMP North, Hostplus or Westpac products."
Mr Mota did not want to comment on industry competitors, but said a clear separation between product information and advice was critical.
"Setting ourselves high standards and rebuilding a better future is a positive," he said.
Market Recap
A concise wrap of the day on the markets, breaking business news and expert opinion delivered to your inbox each afternoon. Sign up for the Herald's here and The Age's here.
Source: Thanks smh.com