'Fun and relaxed': Virgin to target mid-market travellers
Virgin Australia's new chief executive Jayne Hrdlicka says the country's number-two airline will be firmly focused on the middle of the travel market, targeting passengers who want better service than Jetstar but baulk at Qantas' airfares.
Marking her first day in the top job on Wednesday, the former Jetstar boss put to bed lingering speculation Virgin might return to its budget roots under new owners Bain Capital by committing to business class cabins, lounges at major airports and free checked baggage for all passengers.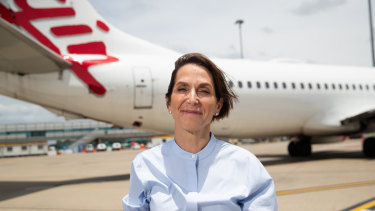 Ms Hrdlicka said Virgin will, however, make changes to better align itself with its mid-market "heartland": economy passengers will have to pay for food, for example, and business class will tilt more towards luxury holidaymakers than corporate travellers.
"We'd lost sight of who we were serving and there's a lot of opportunities to simplify what we do and make it more fun and more relaxed," Ms Hrdlicka said in an interview.
"We had become very formal and formulaic in doing what we were doing and were spending too much time trying to copy other competitors."
Virgin launched as the budget carrier Virgin Blue 20 years ago but in 2011 reinvented itself as a full-service airline targeting Qantas' rusted on corporate travellers. It ran up huge financial losses and struggled on the ASX until COVID-19 pushed it into voluntary administration in April.
Ms Hrdlicka, who Bain tapped to replace former boss Paul Scurrah, said Virgin would not step back from its fight with larger competitor Qantas and would hold steadfastly onto about a third of the domestic travel market.
"We're not walking away from market share," she said. "We'll be very competitive with both Qantas and Jetstar and we recognise we'll compete with both."
And while its business class services will be different, she did not think Virgin would lose its share of price-conscious and SME corporate travellers. "We think businesses coming out of COVID are going to be really cost-conscious," Ms Hrdlicka said.
The US private equity firm Bain got the keys to Virgin on Tuesday following a seven-month restructuring during which time administrators Deloitte aggressively attacked its cost base.
Deloitte and Bain have cut Virgin's workforce from 9000 to 6000, striped back its fleet to a single aircraft type, closed its long-haul operations and budget arm Tigerair, and rewritten plane leases and other contracts.
Virgin is relaunching its domestic operations with 56 Boeing 737s, compared to around 80 pre-administration, with a view to increase that to 75 as the aviation market recovers from COVID-19.
But the pandemic recovery timeline remained highly uncertain, Ms Hrdlicka said, as demonstrated this week by several states again closing their borders to South Australia following a cluster of COVID-19 cases in Adelaide.
A return to long-haul international travel – a perpetual black hole for Virgin before administration – was "a long way away", she said.
Virgin's unions held concerns about Bain's bid for Virgin out of a field of 20 suitors, fearing a "cut and run" private equity flip, and also about Ms Hrdlicka background at the low-cost Jetstar and as part of Qantas during a period of toxic relations with its workforce.
But Ms Hrdlicka said discussions between management and unions had been "constructive and collaborative" over recent weeks as a suite of new wage agreements are finalised.
"We're headed in the right direction and everybody has the same goal which is to bring certainty to our people," she said.
Virgin also said on Wednesday it was committed to its Western Australia-focused regional arm following a restructuring to make it more profitable. Business class lounges started to re-open at major airports from Wednesday, but will remain closed permanently at Darwin, Cairns and Mackay due to low visitation, with its Canberra lounge under review.
Source: Thanks smh.com