Senator, FMG boss lock horns in testy exchange over relationship with Pilbara native title holder
WA Labor Senator Pat Dodson has accused Fortescue Metals Group of denying the native title holders of the land where its Solomon mine is located a "rightful role" in heritage processes.
But, in a sometimes tense exhange with the senator, FMG boss Elizabeth Gaines and community, environment and government director, Tim Langmead, said the company had always engaged with the Yindjibarndi Aboriginal Corporation when it embarked on matters of Aboriginal heritage.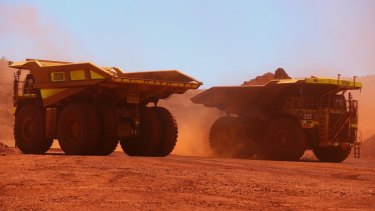 FMG and the YAC's relationship broke down in 2008 after the two parties failed to reach an agreement over the use of the land for the Solomon project.
Since then, they have been embroiled in nearly a decade of legal battles over YAC's exclusive-access rights to the land. The battle came to an end this year when the High Court threw out an application to appeal earlier Federal Court judgments declaring the YAC did have exclusive access, which left FMG on the hook for hundreds of millions of dollars in compensation
FMG also threw its support behind the breakaway Wirlu-Murra Yindjibarndi Aboriginal Corporation, which has been engaged to conduct Aboriginal heritage surveys of the land.
In an oral submission to the inquiry probing Rio Tinto's destruction of rock shelters at Juukan Gorge, the YAC claimed it had "no idea" what was happening on its country, and lamented Fortescue's destruction of other rock shelters, which held evidence of more than 45,000 years of human use.
Mr Dodson, a Yawuru man from Broome, grilled Ms Gaines and Mr Langmead over their invitations to the YAC to conduct heritage surveys with Wirlu-Murra Yindjibarndi Aboriginal Corporation.
He said the only group appropriate to survey the Solomon mine land was the YAC – the prescribed body corporate for the native title area – and accused FMG of leaving them out of the heritage process.
"[The Wirlu-Murra Yindjibarndi Aboriginal Corporation are] not the prescribed body corporate, they're not the authority in native title," Mr Dodson said.
"Fundamentally, you're exploiting the loophole in the WA Heritage Act and the Native Title Act denying the prescribed body corporate a rightful role.
"You're not acknowledging the right authority, that's the issue."
Mr Langmead and Ms Gaines defended the company's heritage processes and said the YAC did not engage with the company when it reached out for section 18 applications to destroy or modify Aboriginal heritage sites.
"Well we have invited them to participate in those surveys, we provide copies of draft section 18 applications, we provide copies of survey reports … so all information is being provided, but we don't have any response from the prescribed body corporate," Ms Gaines said.
"I think, senator, we are talking about heritage matters here which are related to the Aboriginal Heritage Act in WA and we're talking about our approach, which is an inclusive one in terms of seeking to invite both the prescribed body corporate and other Yindjibarndi people to participate," Mr Langmead said.
"We are very transparent and open about that."
Ms Gaines revealed FMG currently held 121 Section 18 applications across its operations.
She said, unlike many other mining companies, FMG's agreements with traditional owners did not contain gag clauses that prevented them from publicly opposing Section 18 applications.
The Juukan inquiry will provide its interim report next month.
Source: Thanks smh.com