Setback for BGH's Village Roadshow takeover as second shareholder revolts
The second largest independent shareholder in Village Roadshow will vote against a planned takeover of the theme parks and cinema operator, in a fresh setback for the company's private equity suitor BGH Capital.
Spheria Asset Management, which owns 7.8 per cent of ASX-listed Village has said it will vote against two takeover structures proposed by the Melbourne-based buyout firm. The decision comes days after the company's biggest independent shareholder, US-based Mittleman Brothers, increased its stake in the company to 14.4 per cent.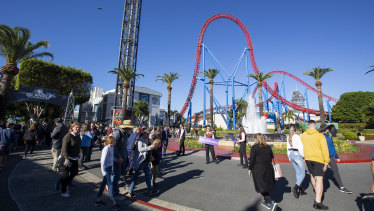 Mittleman has already said the offer on the table is unreasonable and bought millions more shares in recent weeks to block the proposed deal.
The two companies hold a combined 22.2 per cent of the cinema and theme parks operator, enough to block one scheme of arrangement – a $2.32 per share offer – and almost enough to thwart scheme B – a $2.22 per share offer – even without the votes of other shareholders.
Spheria co-founder and portfolio manager Matthew Booker, who said last week he would vote against scheme B, said the firm will also vote against Scheme A. The decision by Spheria means BGH Capital, which is led by Ben Gray and Robin Bishop, may need to restructure its current proposal or walk away from negotiations. Village was approached for comment.
"We believe they do not represent fair value," Mr Booker said. "The latest vaccine is a gamechanger and the business will return to normal quicker than expected and therefore Village's fundamental value will be recognised earlier.
"We believe $3 is an acceptable outcome given the change in circumstances even though the assets are potentially worth a lot more given the risk-reward profile." Mr Booker previously expressed disappointment with the price on the table but did not disclose his voting intentions for scheme A.
Mittleman chief investment officer Chris Mittleman had previous described the offer as "atrociously low" and "brazenly opportunistic."
Assuming all shareholders vote at the scheme meeting on November 26, scheme A could be blocked by a 15 per cent shareholder vote against, and scheme B would need 25 per cent against it to fail.
Under the first proposal, shareholders will receive $2.32 per share but brothers John Kirby and Robert Kirby and former chief executive Graham Burke, who control about 42 per cent of the company, cannot vote under this scheme.
A second scheme offers a lower $2.22 per share offer. Village and BGH announced a takeover proposal in August whereby investors could receive up to $2.45 per share in the company dependent on the reopening of parks such as Sea World, Warner Bros Movie World and Wet'n'Wild.
Village was forced to close its cinemas and theme parks for part of this year because of the coronavirus pandemic. Social distancing restrictions significantly affected cash flow and became the latest twist in a neverending rollercoaster for the company. The Kirby brothers were caught in a bitter and public family feud in 2019 over the leadership and direction of the company.
The market value of Village fallen from $1.2 billion to $447 million since 2014. It still has a large debt pile and will be required to raise a large amount of capital – at least $100 million – if the deal falls over.
Spheria and Mittleman's views are not shared by Morningstar analyst Brian Han, who this week recommended shareholders vote in favour of the two schemes.
"First, we have cut our fair values estimate on Village by 12 per cent to $2.20 per share on a stand-alone basis," Mr Han said. "Second, while we believe BGH's offer is not fair, it is reasonable. The offer is devoid of any control premium to our stand-alone assessment and appears opportunistic, lobbed at a time when Village's theme parks and cinemas were shut, and the outlook was bleak during the height of the pandemic.
"However, we believe the offer is reasonable because an equity raising is inevitable without BGH and there have been no signs of any other interested suitors. Third, if minority shareholders reject the schemes and go down the capital raising route, there are risks as to how long it will take for the shares to recover to the current level, let alone beyond."
Source: Thanks smh.com