'Transformational': Perpetual chief seals deal on global expansion
Perpetual chief executive Rob Adams says global equities are a richer source of returns than local stocks as he transforms the Sydney-based fund manager into an international investment powerhouse after completing its second US acquisition this year.
Perpetual has historically focused exclusively on investing in Australian companies, but on Wednesday finalised its 75 per cent acquisition of US value manager Barrow Hanley, following the takeover of US ethical investor Trillium in July.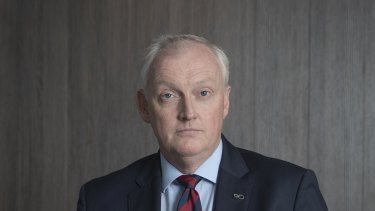 The deal will give Perpetual about 20 new investment strategies across US, global equities and emerging markets, adding $US41 billion ($58.3 billion), or tripling Perpetual's total assets under management to $87 billion.
Mr Adams said he expects Perpetual's offshore earnings to grow at a faster rate than its local investments and said the global pivot would be "transformational" for the 134-year-old investment firm.
"Perpetual up until now has been extensively a domestic-only focused business," he said. "A third of our earnings will be generated from outside Australia. That's a substantial change for us."
Mr Adams said only 2.5 per cent of the world's listed companies were located in Australia. "So if people just focus on those opportunities, they're missing out on 97.5 per cent of the opportunities."
Perpetual and Barrow Hanley are value managers, meaning they seek out long-term investments in companies they believe are trading at a discount. Mr Adams said he has long believed US technology companies are over-valued and his stock pickers would seek out the "winners and losers" amid the market dislocation caused by COVID-19.
"The best stock pickers in the world will be the ones that can consistently add value in the short and medium to longer term. I feel very strongly we're in that sort of environment," he said.
US President Trump is showing no sign of conceding power to President-elect Joe Biden and the average number of coronavirus cases in the US is ballooning. However, Mr Adams said these were short-term considerations that would not sway the fund's investment strategy.
"Whilst there may be some market volatility until there is certainty of transition of power in the US, that is a short-term factor. It really won't enter into the thinking of our portfolio managers as to whether they're going to buy or sell a certain stock," he said.
The active funds management industry has faced pressure over the past five years as major super funds take investment teams in-house or turn to index investing to push fees down. Mr Adams said fund managers with "specialist capabilities" will always be needed and pointed to Barrow Hanley's emerging markets team.
"It's a labour-intensive sector, it's hard to cover, it's an expensive sector to cover, and Barrow Hanley has a seven-year track record of solid outperformance," he said. "A specialist offer like that will always have a role to play in most of the big super funds."
Barrow Hanley chief executive Cory Martin said he was "very excited" to formally start the new partnership with Perpetual. "We look forward to leveraging the combination of our investment expertise and Perpetual's world-class distribution capability."
Market Recap
A concise wrap of the day on the markets, breaking business news and expert opinion delivered to your inbox each afternoon. Sign up for the Herald's here and The Age's here.
Source: Thanks smh.com