ASX to ease back; US markets fade late amid virus volatility
Summary
ASX futures have sagged and are now down 0.3%, hinting at early losses for the local market
US markets faded late to finish lower as investors weighed vaccine developments against surging COVID-19 infections and lockdowns
The death toll from COVID-19 in the US approached 250,000 overnight, a day after the country recorded the highest number of victims in nearly four months
October unemployment data will be released by the ABS at 11.30am AEDT. The jobless rate is tipped to rise from 6.9% to 7.1%
Latest updates
Wall Street wrap: Late sell-off knocks US markets lower
By

Stephen Culp



US stocks closed steeply lower after a late-session sell-off on Wednesday as investors weighed surging COVID-19 infections and mounting shutdowns against encouraging vaccine developments.
While the three major US stock indexes oscillated through much of the day, with economically-sensitive cyclicals and small caps leading the way, they closed sharply in the red.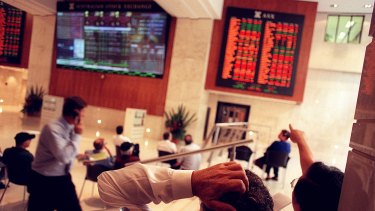 "It's a confused market because portfolio managers don't know which time period to focus on," said Tim Ghriskey, chief investment strategist at Inverness Counsel in New York.
"It's this trade-off between the near term over the six to nine months of continued spread of the virus and the period after that when everyone's vaccinated and the virus is eradicated."
"There's a lot of issues out there but the decided bias has been toward value and cyclicals," Ghriskey added.
Pfizer Inc and its German partner BioNTech revealed a 95 per cent success rate at the conclusion of their COVID-19 vaccine trial, just days after Moderna Inc announced a similar rate of success in preliminary data from its vaccine candidate.
Market participants have been greeting vaccine developments with guarded optimism, but that is being tested as global new infections soar to record levels, and roll-backs of reopenings and new lockdowns continue to mount.
The Dow Jones Industrial Average fell 344.93 points, or 1.16 per cent, to 29,438.42, the S&P 500 lost 41.74 points, or 1.16 per cent, to 3,567.79 and the Nasdaq Composite dropped 97.74 points, or 0.82 per cent, to 11,801.60.
All 11 major sectors in the S&P 500 closed in negative territory, with energy shares suffering the biggest loss.
Third-quarter reporting season has reached the final inning, with 468 of the companies in the S&P 500 having reported. Of those, 84.4 per cent have surprised consensus to the upside, according to Refinitiv.
Reuters
G'day, and welcome to this Thursday edition of Markets Live. You're with Alex Druce today.
The ASX looks set to back away from its nine-month high after a zig-zagging session on Wall Street ultimately ended lower. Virus concerns appear front of mind for investors.
We've got unemployment data for October coming up at 11.30am.
Drop us a line in the comments if you spot something interesting!
Source: Thanks smh.com