Steeling for a rebound: BlueScope boosts its profit forecasts
BlueScope boss Mark Vassella says steel orders are exceeding expectations as strong demand from new home construction and renovations continues, prompting the steelmaker to lift its profit forecast by almost 40 per cent.
Australia's biggest steelmaker released new guidance for the first half of 2020-21 ahead of its virtual annual shareholder meeting on Thursday, predicting underlying EBIT (earnings before interest and tax) of $475 million for the six months to December 31, up a hefty 39.7 per cent on its forecasts made less than a month ago.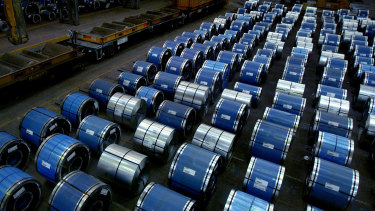 The company is enjoying tailwinds across multiple markets, with steel profit margins in the US and East Asia above long-term averages.
"All operating segments are performing well and momentum has continued to build as we approach the end of the first half. Residential alterations and additions activity, demand for detached new housing, and growth in demand for e-commerce warehouse and logistics facilities are all robust and US automotive industry demand is recovering strongly," Mr Vassella said.
"Demand strength, particularly in the Australian market, has continued to outpace our expectations. We now expect that Australian construction and manufacturing activity will remain strong," he said.
Mr Vassella told shareholders the company's Australian division was on track to deliver a substantially better result than in the second half of the 2019-20 year, adding that confidence was underpinned by government initiatives to combat the economic hit from the coronavirus pandemic.
These measures included significant government infrastructure spending, including a Victorian Government commitment to spend about $5 billion on social housing. BlueScope's Australian division delivered underlying EBIT of $177.2 million in the latest June half.
Asked about the rising trade tensions between Australia and China at the shareholder meeting, BlueScope chairman John Bevan said the souring relations weren't having an impact on the company's China operations.
"In China we operate as a local competitor, so we don't rely on imports from Australia for steel products for example, we buy locally and operate locally with Chinese customers. We don't see the current political situation as being material for us," he said.
BlueScope shares spiked in response to the trading update, and closed 5.3 per cent higher at $17.72, giving the company a market value of $8.9 billion. Earlier in the day they hit $18.24, their highest price since August 2018.
Jun Bei Liu, portfolio manager at BlueScope investor Tribeca Investment Partners, said BlueScope's trading update was very strong.
"This won't be the last upgrade," she said.
"There seems to be a tailwind across almost everything. There's strength across every market, so it's such a great environment at the moment for them," she said.
Whilst shareholders liked its profit outlook, the company only narrowly avoided a first strike against its executive remuneration, with a 23.13 per cent protest vote against it. Influential proxy advisor firm ISS Governance had recommended a vote against the remuneration report.
ISS had said that the level of disclosure in the company's most recent remuneration report had deteriorated on the prior year, and it did not disclose short-term incentive targets for the 2019-20 financial year, "particularly financial targets". ISS said this hindered the ability of shareholders "to assess the outcomes against performance as well as the rigour of the performance hurdles and targets".
Penny Bingham-Hall, chair of BlueScope's remuneration & organisation committee, called the ISS advice "harsh" under the circumstances. "The omission of targets was unintentional, and we have since provided additional disclosure of the range of financial hurdles for the financial year 2020 STI," she said.
Market Recap
A concise wrap of the day on the markets, breaking business news and expert opinion delivered to your inbox each afternoon. Sign up for the Herald's here and The Age's here.
Source: Thanks smh.com