COVID-19 mining disruptions hit Orica's profit, dividend cut
Explosives manufacturer Orica has recorded a 31 per cent slide in full year statutory net profit and halved its final dividend, after COVID-19 disrupted mining activities in many countries and hit demand for its products.
The ASX-listed, Melbourne-headquartered company delivered underlying EBIT (earnings before interest and tax) for the 2019-20 financial year of $605 million, which was in line with its guidance and just ahead of market consensus at $604 million.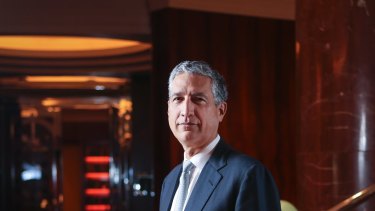 Statutory net profit dropped to $168.3 million, partly driven down by $131 million of individually significant items (after tax) outlined by the company last month. Orica recorded an underlying net profit of $299.3 million, down 20 per cent on the previous year and below market consensus of $322.2 million.
Shareholders will be paid an unfranked final dividend of 16.5 cents per share on January 15, which is a month later than the final dividend is typically paid. Orica's financial year ends on September 30.
"Our 2019-20 financial result demonstrates the resilience of our operating and financial performance in the face of the global pandemic," said Orica chief executive Alberto Calderon.
"After a strong first half that delivered growth in volumes, revenue and earnings, COVID-19 temporarily disrupted our strategic momentum. Despite this, I am pleased to report that we achieved all the major initiatives, and passed all the key strategic milestones, that we set ourselves for the year," he said.
These achievements included the acquisition of the South American explosives maker Exsa, which Orica struck a deal to buy earlier this year for $302 million. Orica describes Exsa as the top manufacturer and distributor of industrial explosives in Peru.
Orica said that its ammonium nitrate volumes were down 4 per cent in 2019-20 compared to the previous year (excluding the contribution from Exsa), and attributed the decline to COVID-19 and associated lockdowns in many countries which reduced mining activity. The company said it was also affected by weakening coal markets, particularly in the United States and Indonesia.
Orica is a major supplier of ammonium nitrate used in explosives technology used by the mining industry around the world.
Mining in Australia remained resilient through the pandemic, the company said, and sales volumes rose. The countries most affected by disruptions to mining were developing countries.
On outlook the company did not provide guidance via hard numbers for 2020-21, but it forecast a significant increase in EBITDA (earnings before interest, tax, depreciation and amortisation) and a return to EBIT growth.
"With most of our customers' operations returning to pre-COVID activity, we have cautious optimism about the year ahead," Mr Calderon said.
Separately, Orica announced that it had set a new target for greenhouse gas emissions, with a pledge to reduce scope 1 and 2 emissions by at least 40 per cent by 2030. Orica said it reduced these greenhouse gas emissions by 9 per cent over the 2019-20 financial year. Scope 1 and 2 emissions are direct emissions from energy usage.
"This is not just an aspirational goal. It is a very real, credible and achievable target, supported by the science and proven technology," Mr Calderon said.
More to come
Market Recap
A concise wrap of the day on the markets, breaking business news and expert opinion delivered to your inbox each afternoon. Sign up for the Herald's here and The Age's here.
Source: Thanks smh.com