Fundamental IT rethink drives data centre boom
Data centre operators are fast-forwarding their expansion strategies – including property acquisitions – amid burgeoning demand for cloud storage and a fundamental rethink about the role of IT infrastructure in physical office space.
Well before the pandemic, the growth in data-hungry applications such as e-commerce and internet-controlled devices had fuelled the proliferation of data centres, which are bespoke climate-controlled buildings housing hundreds of racks of servers.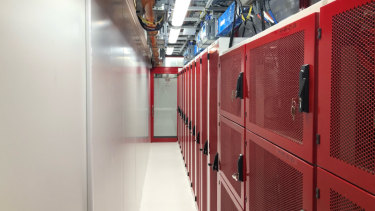 But the pandemic has only accentuated this growth.
"The amount of information created in all of mankind's history is recreated every two years," said Craig Scroggie, chief executive of listed data centre operator NextDC.
"It all has to be stored and shared and backed up and accessed. The sheer volume of information created drives an incredible amount of underlying growth."
Macquarie Telecom chief executive David Tudehope said companies were unlikely to accommodate their own servers and associated equipment when they re-jigged their post-pandemic office space requirements.
"In the same way telex rooms disappeared, so too will computer rooms," he said. "Companies are likely to have an HQ of some kind, buy why include a computer room with a glorious view of Darling Harbour?"
Mr Tudehope said the younger teams in charge of IT were more likely to push for full outsourcing of data storage.
"A lot of real estate landlords don't appreciate the generational change in IT management," he said.
"Typically older IT managers are more likely to take pride in their computer room. However, younger IT heads are more likely to focus on software applications and process improvement for the business."
Last week Macquarie said it had won a contract with a "leading corporation" to supply ten megawatts of capacity at its Macquarie Park campus in northern Sydney.
Mr Tudehope said the deal – unusually large for the sector globally – would account for two out of three floors of its third facility, slated for completion in February next year.
"It will be on time and on budget – words you rarely hear in the property industry," he said.
One of the country's biggest data centre owners with a $5.6 billion market capitalisation, NextDC has an armoury of just under $1 billion of cash and a net $600 million of debt to invest in expanding its existing facilities and acquiring new ones.
"The future expansion plans are a hot area of interest and there's a lot happening in this space given the rate of digital growth," Mr Scroggie said.
The young people in charge of IT were more likely to push for full outsourcing of data storage.
NextDC has two facilities in Sydney and Melbourne. In Sydney, the company has earmarked $350 million of a $672 million share placement in April to develop its third site, S3, at Gore Hill in the city's north.
With 80 megawatts of processing capacity, S3 will be NextDC's biggest facility to date.
In Melbourne, the company in September paid just under $22 million for a 5.8-hectare site at 25 Indwe St in Footscray in the city's inner west.
The vendor, CostaFox, originally intended to build a 150-unit business park at the site. NextDC is pursuing a development application for a third facility.
"We will continue to acquire land in both Melbourne and Sydney for our fourth generation developments," Mr Scroggie said.
But given their "mission critical" nature, he said data centre operators needed to navigate more risks than typical buyers of an industrial site.
"In selecting the right site, we consider many variables including proximity to large scale power, and telecommunications networks," Mr Scroggie said.
"It's also important to avoid floods, fires, flight paths, rail lines and highways that transport dangerous goods."
5G Networks chief executive Joe Demase said the diversified telco was taking a "little bit of an opportunistic and geographic approach" to new sites.
In this vein, 5G is poised to buy an existing data centre in Brisbane's Fortitude Valley – its first in Queensland.
While currently empty of customers, the building is expected to host 300 to 400 racks, a similar size to 5G's centres in Melbourne, Sydney and Adelaide.
Source: Thanks smh.com