Shareholders approve $110 million bonus scheme for Kogan founders
Shareholders in online retail giant Kogan have voted in favour of a controversial $110 million share grant to its top executives while also issuing a warning shot against the business' broader remuneration practices.
Kogan has attracted controversy in recent weeks after the country's three main proxy firms advised shareholders vote against a proposal to grant founders Ruslan Kogan and David Shafer a parcel of share options worth a collective $110 million, labelling the deal "excessive".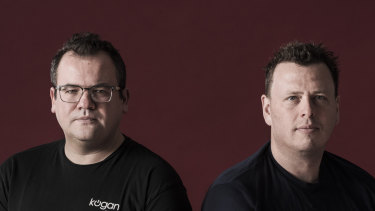 However, in an address to the market ahead of Kogan's annual general meeting on Friday, chairman Greg Ridder praised the "quiet majority" of investors who voted in favour of the options grant.
"They, like your board, believe that having Ruslan and David – in my view the two best ecommerce operators in Australia – retained, motivated and aligned to drive another three and a half years of growth is in the best interests of all shareholders," Mr Ridder said.
Mr Ridder criticised those who had opposed the options grant as being recent entrants on Kogan's share register, claiming that many who voted against the grant bought shares during Kogan's June capital raising when the plans to award executives the bonuses were well-known.
However, Mr Ridder also simultaneously panned a number of Kogan's largest investors for voting in line with proxy advice and issuing the company a 'first strike' against its remuneration report.
The chairman said it was "perplexing" to see "many super funds" follow proxy recommendations to vote against the report given Kogan's strong returns through the last financial year and the company's relatively low executive remuneration.
"It appears many of the votes received are prospective and we will receive a 'strike', albeit that – based on proxies – it does seem that a majority of shareholders are in favour of adopting the report," he said.
Kogan's preliminary documents released to the ASX did not show what percentage of shareholders voted for or against each resolution. Final voting figures will be released following the meeting.
The generous bonuses offered to the company's top executives has attracted significant controversy in recent weeks, with shareholder activists slamming the proposal.
In response, Mr Ridder expressed regret that Kogan did not hold an extraordinary general meeting (EGM) in May when the bonus plan was announced, saying the scheme would have been less controversial as Kogan's share price was far lower.
"With the benefit of hindsight, I think that, had the EGM been held shortly after announcement of the retention options, proxy advisers and media would not have been distracted by the recent gains in share price when considering the value of the executive awards at the time they were announced," he said.
"Also, the retention options do not vest until the 2023 financial results — who knows what our share price will be in three years' time, hopefully much higher than it is today if Ruslan and David can successfully execute on the growth strategy we're positioned for."
More to come
Market Recap
A concise wrap of the day on the markets, breaking business news and expert opinion delivered to your inbox each afternoon. Sign up for the Herald's here and The Age's here.
Source: Thanks smh.com