Vaccine hopes continue to bolster bullish financial markets
Bullishness reigns in financial markets, with global equities hitting fresh record highs last week. Hope for a vaccine is underpinning the confidence, despite surging COVID-19 cases in the US weighing on the short-term economic outlook. Here are some of the key themes to watch in global markets in the week ahead.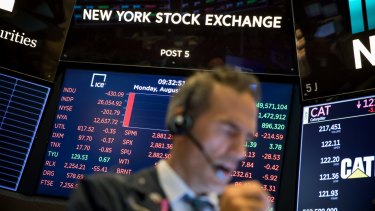 Virus and vaccines
Global financial markets remain in a balancing act between optimism about COVID-19 vaccines and the shorter term concerns of surging infections and tighter lockdowns in the US and Europe. Market sentiment was bolstered early last week, after biotechnology company Moderna announced that early data suggest its COVID-19 vaccine possesses a 95 per cent efficacy, adding to the hope engendered by the breakthrough announced by Pfizer about its vaccine in the week prior.
The prospect of mass distributed vaccines in 2021 contrasted with continued risks to the global economic outlook from the worsening health crisis in the US, with daily case numbers in the country nearing 200,000, ahead of the major Thanksgiving holiday this week.
Australian markets
SPI Futures are pointing to another positive start to the new trading week, implying a 34 point jump this morning, ahead of a week that will be highlighted by December's GDP partials, including Private Capital Expenditure data for the quarter, as well as quarterly Construction Work Done.
The ASX200 recorded its third successive week of gains last week, in what's shaping as a bumper month for Australian equities. After shaky start, the benchmark index added 2.1 per cent for the week, as the stock market continues to benefit from the global rotation into value stocks. The heavily weighted financial sector drove the rally with a 6.18 per cent return, followed by the energy sector, which added 3.06 per cent.
US economy
Amidst a growing caseload, rising death numbers, progressively tighter restrictions and a fiscal stimulus package that seems unlikely to arrive this year, a slew of economic data out of the US will be closely watched this week.
The highlight will likely be the minutes from the US Federal Reserve's Monetary Policy Minutes, which will be perused by market participants for signals that the Fed is willing to step in with further monetary policy stimulus to fill the hole left by new fiscal spending. In addition to the Fed's minutes, Preliminary GDP figures are expected to affirm that the US economy expanded by 33.1 per cent last quarter, while US jobless claims is tipped to show the labour market's recovery is still stagnating.
Global PMI data
Market participants will get a forward looking snapshot of global economic activity early this week, when a spate of Flash PMI Surveys are released. The focus will be on business activity in the services sector, especially in Europe, which has proven volatile during the pandemic, as conditions for services fluctuate with economic restrictions and consumer sentiment. A deterioration in the health crisis and tighter lockdowns in the northern hemisphere, market economists are estimating a drop in business activity in Europe and the US, with manufacturing activity and services activity in Europe expected to fall 53.2 and 42.2, and manufacturing and services activity in the US expected to decline to 52.5 and 55.8.
Listen to the Short Squeeze, our weekly markets podcast produced in conjunction with IG here. Episodes last about 10 minutes and are also available through Spotify and Google Podcasts.
This column was produced in commercial partnership between The Sydney Morning Herald, The Age and IG. Information is of a general nature only.
Source: Thanks smh.com