Ampol weighing all options as Australia's oil refinery crisis persists
Fuel giant Ampol has described rival BP's decision to shut the country's largest oil refinery as a warning of the severity of the challenges facing the refining industry and threat to its future in Australia.
Ampol, formerly known as Caltex Australia, is assessing whether to retain its Lytton refinery in Brisbane, convert it into a fuel-import terminal or consider other uses for the site as travel restrictions to arrest the spread of coronavirus send the refinery's losses blowing out to $141 million.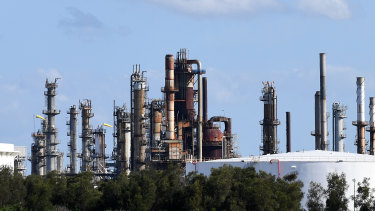 Chief executive Matt Halliday said all options for the Lytton refinery's future remained on the table, but losses of that magnitude could not be sustained.
"Clearly, they are unacceptable," he said.
Ampol's review of its Lytton refinery, scheduled to be completed by the second quarter of next year, comes as British oil major BP prepares to cease operations at its Kwinana plant in Perth, leaving Australia with just three refineries remaining and a greater reliance on imported transport fuels.
"An announcement like that reinforces the challenge," Mr Halliday said. "It's reinforced how challenging the environment is and is likely to remain."
Australian oil refineries – which process crude oil into petrol, diesel and jet fuel – have been under pressure even before coronavirus as the local sector has struggled to compete against the cheaper, mega-refineries of south-east Asia. Three refineries have closed their doors in the past decade.
In the hope of retaining local refining "wherever commercially possible", the federal government has been in talks with Ampol, Geelong refinery operator Viva Energy and Altona refinery operator ExxonMobil to develop a rescue package including a 1.15¢-a-litre payment for locally made fuel. The federal budget also contained measures to buffer Australia against potential supply shocks caused by global events such as wars or pandemics, including a $200 million-plus investment in a competitive grants program to develop new onshore diesel storage and increase stocks by 40 per cent.
Federal Energy Minister Angus Taylor said he anticipated the production payment would be rolled out early in the new year. "We know how challenging a time it is for the refineries," he said. "We understand the urgency."
Months of government-imposed travel restrictions to combat coronavirus have had a heavy impact on fuel sales and oil refineries' profit margins. Mr Halliday said jet fuel demand had collapsed by 55 per cent in the year to date, while petrol had fallen 19 per cent and diesel 11 per cent. While some borders have begun reopening, the outlook for Ampol's fuel sales remained uncertain, particularly for aviation travel.
Shares in the ASX-listed Ampol rose more than 6 per cent on Monday to $29.75, after the company announced a $300 million off-market share buyback. The buyback comes after Ampol completed the sale of a 49 per cent stake in its freehold retail convenience sites to Charter Hall and Singapore's GIC for a higher-than-expected price of $635 million.
The buyback, which would begin on December 7 and close on January 22, equated to about $1.20 per share on issue, Ampol told investors.
Business Briefing
Start the day with major stories, exclusive coverage and expert opinion from our leading business journalists delivered to your inbox. Sign up for the Herald's here and The Age's here.
Source: Thanks smh.com